Author Bill Roose was kind enough to send along an excerpt from his new book on Desmond Howard titled, "I Wore 21: The Legend of Desmond Howard".  The book is dropping this week around Ann Arbor and will be available at the game on Saturday.
While we've all seen the famous photo of Desmond making 'The Catch', how about this shot from page 69 of I Wore 21 of Howard celebrating with the lineman and the madness over in the student section?  Look at the faces of the guys running up to him: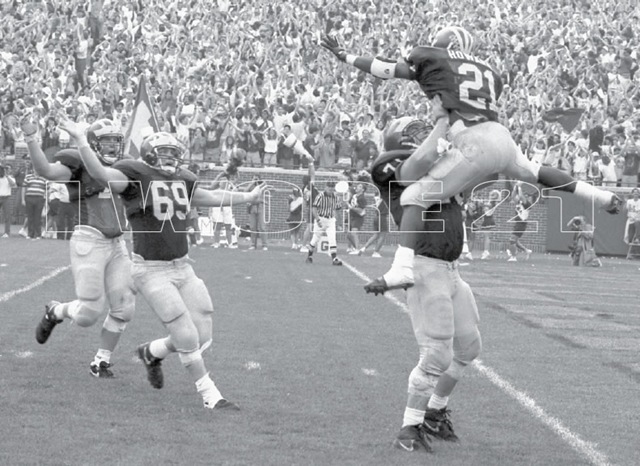 Side note: I'm probably in that photo somewhere, over to the left.  It's up there with Woodson's 1997 interception in East Lansing as the greatest Michigan catch I've witnessed.
Here's a clip from chapter two, Grbac talking about the play:
Quarterback Elvis Grbac is still amazed by what Howard did that day. "I threw the ball up and it was really incomplete, to tell you the truth," Grbac said. "Then at about the 5-yard line, Des looks up and he goes into another gear and absolutely runs by the corner and there are not too many guys who can do that. "That was a catch that just propelled him through the entire season, because now once we got inside the 20-yard line, people were like, 'OK, what's he going to run? Nobody's going to stop him.' After that ND game we could do whatever we wanted with Des."
Looking forward to seeing my classmate and Heisman Trophy winner honored on Saturday.
More details on the book and where to find it here.