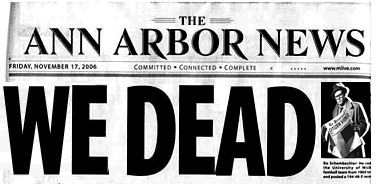 Head spinning a bit. Looks like a closure of the traditional newspaper and a rebranding as "AnnArbor.com". A paper will be produced a couple days per week. From MLive:
The Ann Arbor News will close in July and will be replaced by a Web-based, media company called AnnArbor.com, Laurel Champion, publisher of The News, announced in a 9 a.m. meeting with staff.

"While this is an incredibly difficult decision for us, this is by no means the end of local journalism in Ann Arbor," Champion said.

Champion described AnnArbor.com as an innovative, community news and information service. AnnArbor.com also will produce a twice-a-week newspaper, published on Thursday and Sunday and a total-market coverage product once a week.

The Ann Arbor News will continue publishing a daily newspaper through July, she said.
Thoughts are with the many employees that produce the paper. I'm sure former AA News columnist Jim Carty will have beaucoup reaction on Paper Tiger No More.
I'm guessing most of you in the area viewed the News through the prism of the sports page and judge the merits of the paper on the quality of that section. I'm guessing most of you aren't crazy about the sports page and therefore not too broken up over this announcement. That's fine maybe even fair, it's not a charity case it's a business. But a lot of subscribers in this town are going to be crushed over this and I'm not sure how many people are ultimately affected by this, but think of carriers, the truck drivers, the gang at the printing presses, admin offices, let alone the entire writing staff. It's a blow for Ann Arbor. I'm obviously anxious to see how this AA.com is structured and in particular, how they handle the sports.
Update 3/23 afternoon: Umm, I just grabbed my copy of the News out of my mailbox. While I wasn't expecting the headline to read "WE DEAD", I was expecting some sort of headline related to the story that the paper itself certainly had the scoop on. I assume they didn't have time to get this to the presses after the morning all staff meeting. I wonder who'll write that story.