One of the homecoming traditions on Saturday morning is of course the Sigma Alpha Epsilon Mudbowl.  This year will be the 76th renewal of the annual battle held in the natural depression at the corner of South University and Washtenaw, but it won't happen this weekend.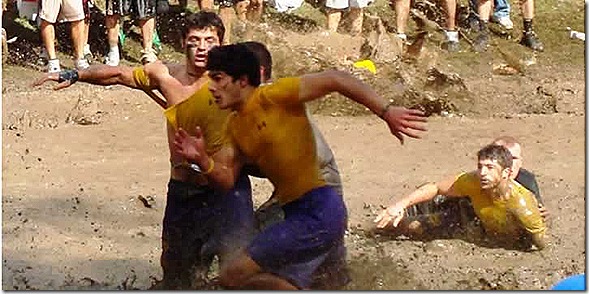 Instead of the traditional homecoming schedule, the game will be held prior the Penn State game on October 24th.  SAE used to play the fraternity across the street (which used to be the Phi Deltas) but things changed in recent years.  As I understand it, now the True Gentlemen play the victor of the fraternity flag football league tournament and I'm guessing that's one of reasons they need to play the game later on the schedule (since the school year just started).  I'm looking for verification on that.
For you geology buffs (cricket, cricket), the hole in which the game is played is not the site of an old building or pool or whatever–it's actually a bit of a natural oddity.  From this flickr page commentary by local historian "Wystan", who was asked if something was originally built on the lot:
No, the "Mud Bowl" actually is a kettle hole, which was left by the glacier when it retreated eons ago. To build there would be to invite problems — along with such amenities as a permanent indoor pool in the basement . . . .

In the 19th century, U-M Prof. Alexander Winchell cited the hole to his students as a local specimen of geological phenomena. He also mentioned it in his bestselling book, "Walks and Talks in the Geological Field," a popularized account which explained science for lay readers.

Incidentally, in glacial terms, the counterpart to a kettle hole is a "kame" — a piled-up deposit of glacial effluvium. The best example in Ann Arbor is on the east side of Huron Parkway, right across from Huron High School.  (Winchell lived in an octagon house where Hill Auditorium now stands, and he died there in 1891.)
The flickr page included this awesome photo of the house decorated prior to the 1924 Homecoming game against Iowa (looks like this is taken from the corner of South U and Washtenaw):
In that '24 tilt, the Hawkeyes prevailed 9-2 in the final game of the season against a Michigan squad first coached by someone other than the great Fielding Yost since he arrived in 1901.  Fear not, Yost returned in 1925 to get things back on track, particularly to toss a harness on The Galloping Ghost, Red Grange.
There are a few famous Michigan men with ties to the game, but let's start with Phi Delt Old 98 Tom Harmon, SAE Bo Schembechler (at Miami, OH of course) and a certain blogger.
Related:
Photos and highlights from Mudbowl 2008.