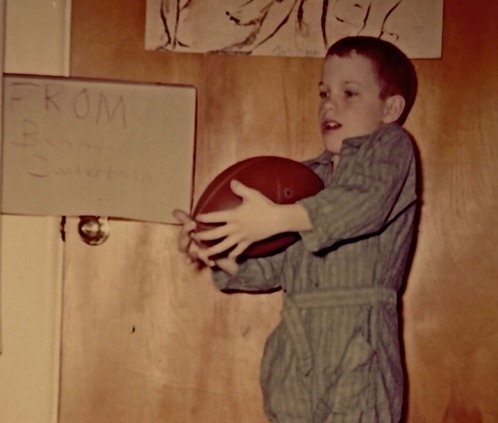 Young Ben McCready with a gift from his godfather, namesake and then-U-M coach Bennie Oosterbaan.  It's the gameball from the 1958 Minnesota Little Brown Jug game & was a Christmas gift.
For Michigan historians Saturday's game holds special significance.  Bennie Oosterbaan, arguably the greatest athlete in U-M history will be honored.  He was the first football man to have his jersey retired (#47) and against Air Force, he will be the first to have a Michigan jersey "unretired".
Oosterbaan's exploits on the field are well known: a three time All-American in football, a two time All-American in basketball, and a Big Ten batting title champion in baseball. The Muskegon native turned down offers to play professionally and instead chose a different path: a life dedicated to coaching U-M students in each of the sports in which he dominated. He coached all three sports at one time another, the highlight being when he led Michigan to the 1948 football national championship. After his coaching days he remained an administrator with the athletic department until he retired in 1972.
Over the past year I've gotten to know Ben McCready, the godson and namesake of the great Oosterbaan.   He'll be there Saturday when his godfather is honored.  McCready was kind enough to share some insight on how the "unretirement" came to be, his thoughts on who should don the #47, how his godfather would feel about all this and much more.
————————————————————————————————–
MVictors:  As one of the representatives of Bennie Oosterbaan family, did the athletic department reach out to you to ask if the family would be interested in participating in the Legends program?
McCready:  Dave Brandon contacted me last September to see what I thought of the Legends program.  I loved the idea.  He and asked if I could put him in touch with members of Bennie's family. I was happy to put Dave in touch with Bennie's surviving relatives (8 in all), most of whom Bennie and his wife Delmas were very close to throughout their lives.  Dave sent letters to all of them. Every member of the family responded to Dave that they loved and supported the Legends Program and the "unretiring" of Bennie's jersey.
MVictors:  You are not only Bennie Oosterbaan's godson, you are actually named after him.  Can you tell me how that came to be?
McCready: My mother, Sally Wyman McCready (1926-2008), grew up at 1510 Brooklyn, next door to Bennie and Delmas Oosterbaan (1512 Brooklyn ). Her father, George Wyman, and her grandfather, Arthur Brown, were close friends of Bennie Oosterbaan (as well as Fielding Yost and, later, Fritz Crisler). My mother was like a daughter to Bennie and Delmas Oosterbaan. When their son Bennie was born in June of 1938 my mother was like a big sister to "Bennie Boy." When he died in 1946 Bennie and Delmas were devastated and my mother had lost her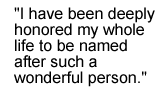 "little brother."  When Bennie learned that my mother was pregnant with me he asked if she might consider naming her child (if it was a boy) after her "favorite player and coach." She said that was what she was planning to do and Bennie was quite thrilled. When I was born in August of 1951, my mother asked Bennie if he would like to be my godfather and he said nothing would make him happier. I have been deeply honored my whole life to be named after such a wonderful person.
MVictors: Did the athletic department invite some of the Oosterbaan family back for the game?   What are your plans?
McCready:  The athletic department invited me and 8 members of Bennie's family to the game and to be part of the on-field ceremony before the game. Bennie's nieces, Dorothy Preston, Anna Marguerite McCann and Susan Pierce, are in their seventies and eighties, live on the coasts, and travel would be difficult.   Bennie's three great-nephews, Richard Preston, Douglas Preston and David Preston (the best-selling authors and their very successful doctor sibling) have prior commitments (a family wedding) and very busy schedules. I will be at the game as part of the pre-game ceremony, as will Lew Gatch, Bennie's cousin, who is a very successful attorney and was a close friend of Bennie's throughout Bennie's life.
MVictors:  Do you have a preference on who dons the #47 jersey in 2012?  Do you have any say or insight into the decision?

McCready: I would love to see Jordan Kovacs wear #47 but I don't have any say in that decision. I trust the coaches to pick the right player.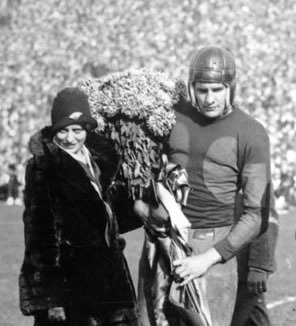 MVictors:  How would Bennie feel about being honored in this way Saturday?
McCready: I think Bennie would be thrilled that his number was going to be back on the field, as it was for the very first game ever played in Michigan Stadium. I also think he might be a bit embarrassed by all the fuss but as long as it made people happy he'd be fine with it.
MVictors:  If you had to guess, was your godfather more proud of his accomplishments on the field (9 letters  across three sports and a 5 time All-American) or of his coaching resume at Michigan (Oosterbaan coached baseball, basketball and football, including the 1948 national title)?
McCready:  Bennie just liked to play the game – the fame and attention weren't important to him. I'm not sure that being the Head Coach was as much fun for him as being an assistant, working behind the scenes. I think, more than anything else, he just liked working with young people to help them become better athletes and, most importantly, better human beings.
MVictors:  Oosterbaan dominated every sport he played at Michigan.  Was there one sport that he preferred or one that he felt he had the most talent?
McCready: He enjoyed all sports but football was definitely his favorite.
MVictors:  Did Oosterbaan have any special memories of Fielding Yost?
McCready:  Bennie liked everyone and he never had a bad thing to say about anyone. I can't remember Bennie talking much about Yost but I do know that Bennie liked him a lot.
————————————————————————————-
P.S. Want more on Oosterbaan?  Check out Saturday's game program.  I've got a piece on Bennie O. off the field.
More on Oosterbaan here:
The Wolverine Pack & 1926
Have a Highball with Bennie O.
Forty-Seven & Victors Valhalla
Follow MVictors on Twitter