This is midway through the first half – this is real
Made it up to the game last night and it wasn't as close as the 78-64 final score.
– It's a little frustrating to sit and watch. The offense pretty much looks for an open three and then clanks it off the rim. The good news? It seemed like they were getting good looks at the rim before then tossing the brick.
– The highlight of the game was DeShawn Sims' three-quarter court heave to end the half. The place erupted and that was nice to see.
– Newsflash: Eric Gordon is amazing. Michigan kept it relatively close near half because Gordon was on the bench with three fouls.
– A few local AA-list celebrities at the game including:
* Coach Carr with wife Laurie at mid-court. He got a huge cheer when they showed him on the screen.
* Coach Rod with a few new staffers (see pic). Both coaches spent some time with Florida grad and supreme hotness Erin Andrews.
* Joe Dumars courtside checking out the talent.
* Sam Webb of WTKA.
– As far as the arena, it was at best 40% full with large portions of the Maize section empty. Four of us walked up to Crisler without tickets. A few different fans handed us free tickets within minutes.
Elsewhere:
– Carty reacts to the Jay Bilas comments. He inserted the entire Bilas comment on Beilein in the post then reacts. Check it out.
– mgoblue.com publishes Coach Rod's entire new staff. Glad to see he retained equipment manager Jon Falk, keeper of the Little Brown Jug.
– MLive published the audio of Rich Rodriquez's interview with Jim Rome from yesterday. I've got it here:
Update Postgame: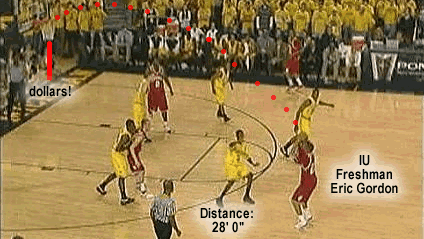 And in case the Indiana blow-out wasn't out of your mind yet, the IU Blog Inside the Hall runs a little film session on Eric Gordon demonstrating the super frosh's ridiculous range. The set? You bet: Crisler arena.