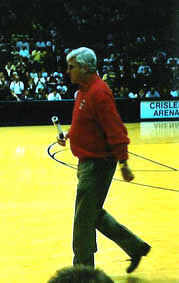 IU comes to Crisler Tuesday and I'll be up there. I always like checking out the Hoosiers having spent two years in Bloomington for grad school.
To the left is shot of coach Knight I took during the January 12, 1993 game (I yelled "Hey Knight!" but he didn't react). The one point Indiana win in Ann Arbor was one of the best games I've ever witnessed, with Chris Webber getting a shot blocked at the buzzer.
Beilein is still looking for his first big win and I'm hoping it's Tuesday. I'll try to get a few pics from the game and get them up here. Should be interesting to see how many fans show.