A Guest Column by Brady Bonus – East Coast correspondent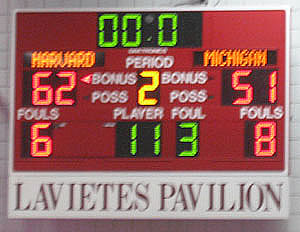 CAMBRIDGE, MA –
Well it looks like a new low established by the men in (black and) Blue ensures me that we will not be seeing an end to this fruitless, uninspired and seemingly aimless brand of hoops anytime soon. I guess it's fitting that Tommy's first milestone-setting, program-lifting hoops victory of his career comes at the expense of his own (old) team. Heading into Lavietes Pavilion in Cambridge, a few things struck me and fellow UM alum Dave Henry pretty quick. Here's my summary from the game:
Quick pre-game facts that ensured Michigan of victory:
• The slide-out style bleacher gymnasium closely resembled our high school hoops gyms.
• There was an Asian kid starting for Harvard [ed. Feb 2012: Yes, the "Asian kid" was Jeremy "Linsanity" Lin of recent NBA/Knicks fame]
• A starting five of all white dudes without scholarships for Harvard
• There seemed to be more Michigan fans present than Harvard fans, and we were much louder
• Harvard doesn't offer athletic scholarships (stated twice for emphasis), and they led the season off with a 55 point loss to Stanford
• Tommy Amaker was coaching the opponent
Dave and I started the evening talking about what sort of victory would be considered unacceptable. I thought that anything less than a 20 point victory might be considered a setback for this young squad. Henry agreed. We soon realized that these arrogant assumptions about a team that hadn't done anything special yet in this young season was inflated at best.
By now you know what happened, but here are some observations from the game action:
• Our guys are not good (or even average) three point shooters, yet they seem to be coached to take the three way too often, and way too early in the half-court set. I know Beilein is a 3 point advocate, but does he think these guys are going to suddenly find their range? Is Beilein that much of a one-trick-pony that he can't coach to his players strengths?
• Michigan play-by-play guy (AKA the guy who sits next to color man Jimmy King) unfolds a picture frame of his wife and kids and puts it in from of him and Jimmy. This is either really creepy or one hell of a dedicated family man. Henry and I concluded that the 12-15 games that this guy has to travel out of town per year for UM hoops games don't constitute this sort of bizarre over the top activity. Conclusion: This is very odd cubicle-like behavior, and this guy is either very needy or very overbearing. He should at least offer the left half to Jimmy so they can both bask in the warmth in their respective family bosoms: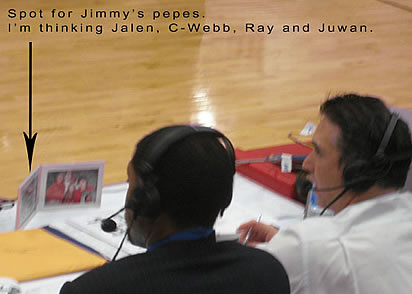 • I know it's a young team, but there are two dominant offensive modus operandi of these Michigan kids:
o Force outside shots with men in your face with a lot of time on the clock
o Drive to the hoop with your head down and force a shot (Manny Harris is the biggest offender)
There was a lot of bad shots and forced outside jumpers, a couple 3 on 1 fast breaks where the ball never left one man's hands when it clearly should have been distributed for an easy two, and not enough driving to the rim. It seems to me this is a coaching issue, but it's too early to tell. Beilein wasn't benching any offenders, he just barked a few times and went and sat down to mope.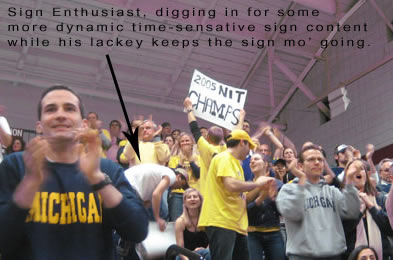 • There was one of those Sign Guys at the game. You know the type: Over 25 years old, starved for attention and with a creative streak that can't be quenched just by home projects. He had a few duds, but his '2005 NIT Champs' tickled me a bit, and I laughed in spite of myself (like Santa). Later, during Amaker's post game courtside interview with ESPNU, the only time Amaker acknowledged the Michigan fans was when he looked up and this dude was waving the sign 5 feet in front of him, and Amaker graciously smirked and put up his hand with a 'Thanks for the support gesture'. I don't know the intent of Sign Guy, but I don't think that he was thanking the ex ball coach. Classic Tommy though, classy but clueless.
• Any one of our guys could take any one of the Harvard kids off the dribble, yet they refused to do so and consistently settled for long range low percentage jumpers. I suppose this could be a fatigue/travel issue, but if so the kids should check out how Michigan used to travel and then consider whether a 2 hour flight should really be that draining.
• A few bright spots
o Freshman point guard Kelvin Grady (who came off the bench and never gave the spot back to starter Jerret Smith, staying on the court through the end of the game). He was one of the only guys on the court who was making things happen and creating separation from the defense. He's gonna be good once he matures into a Point Court Commander.
o Sophomore Forward Udoh, who came off the bench and should be getting more time on the court soon replacing some Amaker stiffs that like to stand around.
o That's about it
• The last few minutes of the game was the worst part of the Michigan performance. Michigan folded like a Donovan McNabb Super Bowl appearance getting outscored 11-0 to end the game without a fight. This game was characterized by long scoring droughts by Michigan who played like they should win based on their pedigree. I wonder if OSU fans will start buying Harvard T-shirts for when Michigan visits? That would be really funny watching Ohio State blockheads don crimson apparel.
• Tommy actually looked like one hell of a coach today. Who knew? Harvard played team hoops, didn't turn the ball over, passed the rock, played hard and did exactly what they needed to do to win the game. It's tough to tell if it was an inspired performance or a poor defensive showing by Michigan, not making it tough enough on the white boys from Cambridge. But it was a great team game regardless: back door cuts, crisp passes, few turnovers and long range shots when they were open and needed.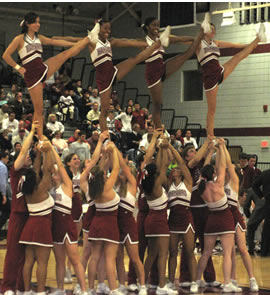 • The Harvard cheerleaders are more beat than the Michigan cheerleaders. Didn't think that was possible.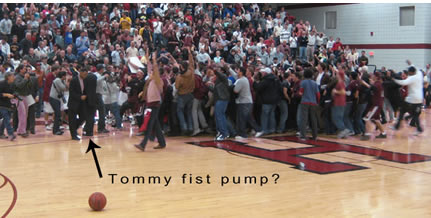 • The kids stormed the court after the W like they won a national championship. You can't blame em though, it was a big win for the program and they don't have much else (besides great futures, summer homes and financial security) to root for.
• Beilein or any player shouldn't blame this loss on the tough (actually insane: Alaska, DC, home, Cambridge) schedule for the past 2 weeks. Suck it up and rub some dirt on it, it's an Ivy League opponent and you should have been able to sleep your way to a 20 point victory. The fact is you played sloppy, unintelligent, uninspired lazy hoops. You forced outside shots when you should have driven to the hoop, you didn't pass to the open guy when situations demanded court vision instead of tunnel vision, and you let up on the boards and on defense when you needed stops. The schedule was tough, but well, tough shit happens sometimes: suck it up.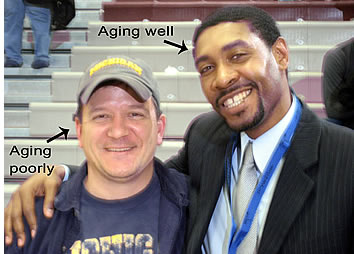 • I was impressed with Jimmy King. He was a generous and nice guy, had time for a word with everyone who wanted it. I told him he needed to put a jersey on and help the team out, to which he replied "Naw man. They'll be aight. They're young. They got spirit." Well I'll have to take your word for it Jimmy on the spirit thing, cause I didn't see it at the end of this game. I just wish I would have had the wits to tell him he was young too in 91, and they seemed to do aight.