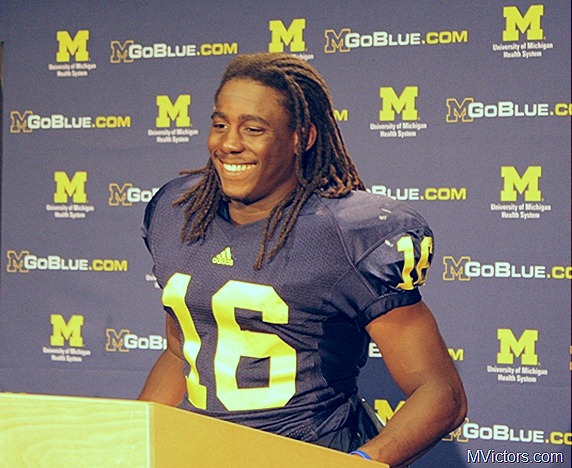 What a day at the Big House yesterday but it'd be a much different feeling and memory had the team fell flat. 
Off the Field:
Artwork:  I love that they honored the national championship teams with these larger-than-life displays.  I didn't get a chance to get over to the east concourse but plan to before the next game.  This from the west concourse, very nicely done: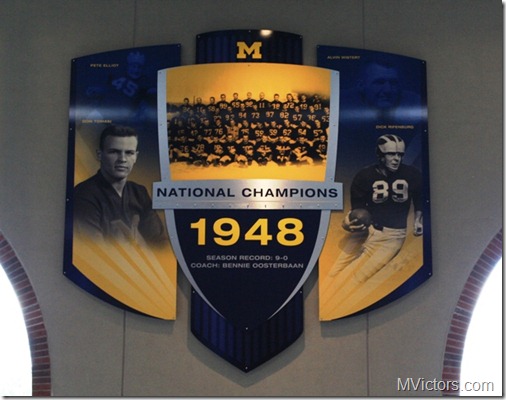 Commemoratives.   The renovation pin is a nice item for fans and the game program is off the hook.   Some of the history features were very well prepared expect one—the section on the Little Brown Jug.   Page 27, bottom right:

Dating back to 1909, the battle for the Little Brown Jug is the oldest trophy game in NCAA Division I Football Subdivision.

OK.  That's ok to say "1909" if they meant to say when the teams started playing for the trophy.  That's correct of course.  But it continued:

Heading into that 1909 contest, Michigan was undefeated in 28 straight games as it headed to Minneapolis..

Ugh.  They were describing when the jug was bought and left behind in Minnesota and that was 1903 of course, in the midst of Yost's point-a-minute teams.  In 1909 Michigan rolled into Minneapolis on the heels of a furious "one" game winning streak, albeit an all-timer—the great victory over Penn in Philadelphia. 

Further, the repeated the incorrect assertion that the jug was missing from 1930 to 1934 "..an Ann Arbor gas station attendant found the real jug behind a clump of bushes.."  Just wrong.  Readers of this site know those dates are wrong and that story is all crossed-up.  My mission next year is to fix that before we play the Gophers next season.

Fan Vision.  I toyed around the Fan Vision handheld unit.  It's pretty sweet, especially if you don't have the benefit of a TV and laptop while you're watching the game.  Occasionally the replays were a bit pixilated and they didn't seem to have defensive stats, but this device is a winner especially for the uber in-game nerds like me.  Michigan is a test bed of sorts because the company is backed by Steve Ross.  It only works inside the stadium, but you can watch any other games for teams' that have Fan Vision rolled out.
Millen.  Yes, I spotted Matt Millen hanging around the press box.  I don't care what you think of the guy as an analyst he shouldn't be around these parts.  It's not right.
On the Field:
This was the worst punt ever.  A guy nearby in the press box said he's seen NBA'ers kick basketballs further which was awesome: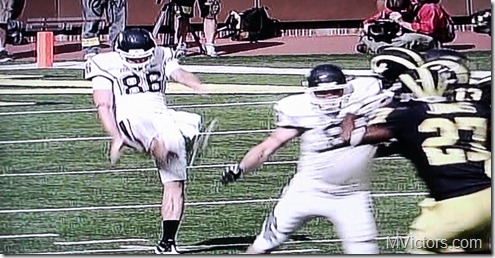 On Denard.  Plenty will  be written on this guy in the next week but man, I can't get over that performance.   In the brief glimpse of him in the spring, merely in drills, I knew something was different:

I'm basing this purely on the drills but Denard looks solid tossing the ball.   Ins, outs, slants, deep – anyway you want it. 

He threw some beautiful passes and unless Rodriguez and crew called a perfect game, he seemed to make all the right decisions in the pocket.  And on the ground, you give 16 a crack and it's good for five yards—it was amazing to watch.

On Tate.  Look, as good as Denard looked, Forcier will be pressed into service this year, I'd bank on it.   I read Mike Rothstein's piece and saw the scenes of Forcier hunched on the sidelines.   I don't know what that was all about but he needs talk to his old man and brother, sack up and finish the season with this team.
I was watching James Rogers a bit, thinking like everyone else he was really going to struggle.  I haven't look at everything yet but it looked like he made solid plays at corner both against the run (holding contain) and in coverage.  
In general the defense was just solid, seemed to know what they were doing (expect on that quick fourth and goal touchdown run) and seemed to tackle well.   Denard was the biggest surprise but the performance of the defense was right behind.
Postgame Press Conference.   It's tough to get a lengthy answer out of Denard but his smile makes up for a lot of any anxiety he has behind the podium.  He's clearly getting more comfortable.  I think it was Mark Snyder who asked him a question, Robinson didn't quite follow what was being asked and he said something like, "What are you trying to ask me?".  
Dave Brandon sat in on the press conference as well, and Rita Rod came in and sat with him.  She was beaming the whole time.
Speaking of the presser, I was wondering if Rich Rod was going to be asked about Tate  but I'm not sure how many of the media saw Tate slumped over on the sideline (at the time).  It didn't come up.   I knew about it (Phil from UMGoBlue.com showed me on the Fan Vision) at the end of the game but I didn't have the stones to ask RR about it.  Plus I was too giddy after the whole day.  My Q&A session would have gone something like this: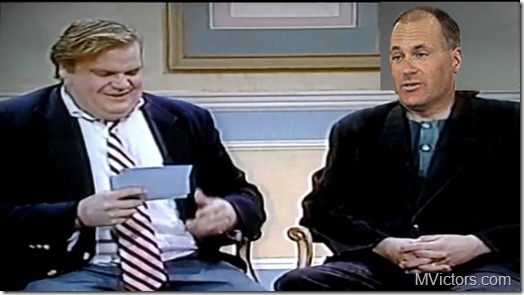 Me: "Do you remember when…umm, Denard ran up and down the field a bunch of times?"
Rich Rod: "Yes."
Me: "That was so cool."
* Follow MVictors on Twitter *
Related UConn game content: