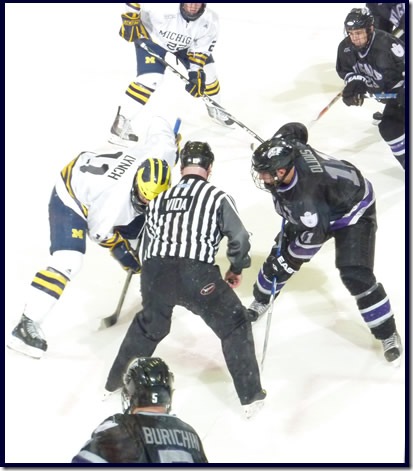 Ref either is an old A's fan or a hipster Iron Butterfly maven
Great to have regular season hockey once again as Michigan played their season opener tonight, squeaking by Niagara 3-2.   Recap here from mgoblue.com.
The Wolverines roared out to a 3-0 lead early on and nearly made it four, before Niagara grinded its way back and just missed a chance to tie the game with seconds to go. 
I wasn't happy with the effort.  It's easy to understand if they let up after the third goal but the squad just looked sloppy and sluggish for long stretches.  Give Niagara credit for fighting off a bunch of power plays and hanging in there, but the Wolverines weren't crisp.  Can't have that at Boston this weekend.
Other stuff:
If these guys are rocking these outfits all year I've got to work something out.  I sit directly across the ice and all I can think about is the inset:
The PA announcer said there are tickets available for the Miami, OH series November 6 and 7.  Come on people!  Tickets here. 
Don't know if you've checked out Uni Watch, but it's worth a look.  They obsessively follow sports uniforms and the like, and this week Paul discussed the different designs on hockey red lines including this explanation of why red lines have designs in the first place:


The red lines were originally broken up with white in order to differentiate the red line from the blue line on black and white TVs. Perhaps this is common knowledge, but I only figured it out last year when Montreal played in Colorado and the local sports station broadcast the second period in black-and-white as a tribute to the old days of hockey.

Note that Yost has white diamonds on a red background.  Most rinks seem to have diamond- or star-based designs, but check out the variations he found.

Check out the red line design!  (Oh, and that's Gordie frickin' Howe)

Related: