A quick dump, twenty minutes after the OT win: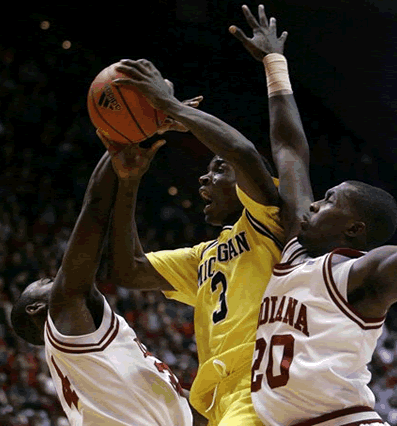 I always love the IU vs. Michigan game because of the hoops tradition at the two schools and probably more so because I attended IU for a couple years at the end of the Knight era.    I've seen a couple dozen games at Assembly Hall including a few real beauties.    What a classic.
I actually missed the first half due to the early start.  When I tuned on BTN, they were flashing the first half stats.  All brutal obviously; everything in IU's favor and Michigan was shooting horribly.  After the first few minutes of the second I saw Michigan firing (and firing, and firing) and missing.   A disappointing, two-steps back loss seemed imminent and I chalked this up to one of the drawbacks of Beilein's system: we're going to win some we probably shouldn't and vice versa.
But those M men grinded away, never stopped firing, stepped up the defense and seemed to constantly get open looks.   Crean's brutal inaugural season continues.   Obviously a lot of this is on Indiana.  While Michigan hit some clutch shots (Sims turnaround jumper in overtime was money), the Hoosiers couldn't seem to get a hand in the face of most of the threes and rest assured they will be shooting some free throws tomorrow after failing to convert when Michigan nearly collapsed at the end of OT.
Trying to find new labels for these wins is growing tiresome–was this a "landmark", "breakthrough", or "career-defining" victory? I think all those have been used up. These cats are on their way.
Postscript 1/8 – I see a lot of Michigan fans are talking about how sloppy the game was, how we're playing to the level of our opponents, how we almost gave it a way.  All true!  But dudes—we don't have Larry Johnson and Stacey Augmon out there, we're not the Harlem Globetrotters just b/c we won a couple big games.  Take the good with the good
Related:
Hoosier Report: Ugh