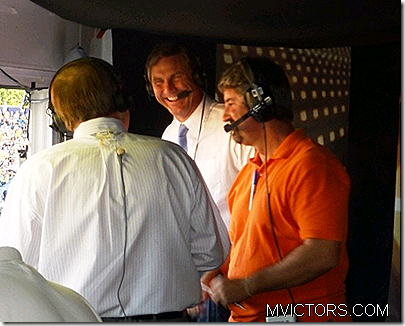 The Pony up in the Michigan Press Box
Craig James called the Western Michigan game for ABC on Saturday and apparently saw enough: he's All In with Michigan and Rich Rod.
James is one of the few from the national media pool who vote in the weekly AP college football poll.   He not only put the Wolverines in his top 25 this week, but he slotted them #18 right behind Notre Dame.  ESPN's Kirk Herbstreit is waving the a pale 'Kinda In' towel, slotting Rich Rod and company at #24.
Yes, ABC featuring Matt Freakin' Millen will be calling the suddenly giant game this weekend against the Irish but I don't think they needed James's vote to boost interest.  The announcement that Millen would call the game was made back in July, sending ticket prices soaring: