I made it into Detroit yesterday to enjoy some of the pregame festivities and managed to get decent seats to the big game.   Viva miscellanea:
Dick Vitale watched the game on TVs inside the media room but made it out after the Spartan win for a few photos and to yuck it up with the green faithful: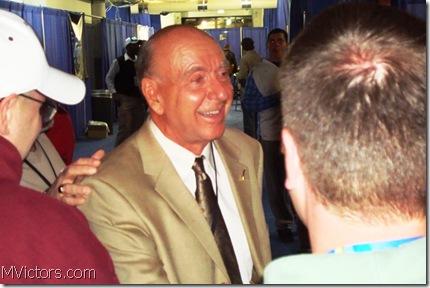 One of my spies was nearby when Vitale was preparing to get his media credential and badge for the weekend.  Per my source, Vitale approached the kids manning the media booth and gave his name.  The kids asked for some ID.  Vitale didn't have it and said something like, "Come on, I'm Dickie V.!", which got blank stares back from the people behind the desk.  Thankfully an NCAA official was nearby and resolved the issue.  
The debate continues in the M community over whether a true Michigan man can root for the Spartans and I guess it's an interesting discussion.  I understand if you, the individual fan, are passionate one way or another.  I understand the history, I understand how many Michigan State fans treat Michigan, I understand that many of you work next to some annoying MSU fan and get some pleasure out of watching him suffer.  That's all fine.  But there is no hard fast rule, and for anyone to suggest that there's a right way or wrong way for Michigan fans to act is silly.  There are many, many factors involved in who we cheer for and to what degree we support certain programs or situations.  There is no hard fast rule.  Boo them until your throat is sore.  Fine by me.  Scream like a girl after Summers' dunk.  Fine.  I suggest M fans worry first about what Michigan is doing.
I hung out in Spartan ground zero outside Ford Field.  The place to be was Cheli's Chili, the sports bar owned by the Red Wing Chris Chelios.  I spotted Cheli at one point hustling donuts up to someone.   Once you got inside it was packed but I seriously never had to wait for a beer and it's not like this crowd wasn't drinking.  Anyway, the place was a complete sea of green and white as you'd expect, dig it:
Yes, a sea of green expect this guy, who got geared up this morning and passed over all his Spartan gear and went instead with this: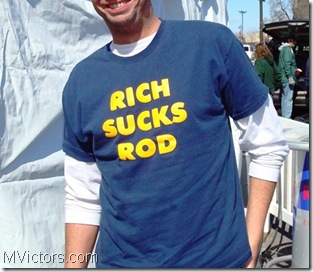 Consider this.  On the brink of the one of greatest moments in the MSU basketball history—playing as an unlikely Final Four team in front of 70,000+ local fans—and this guy goes with the 'Rich Sucks Rod' tee.  Many of you who wanted State to fall bad yesterday point to guys like this as justification.  Friends, I understand.
Speaking of the 70,000, the atmosphere is fun but if you weren't sitting somewhere within the baselines it had to be tough to see what was going on.  I was at mid-court in the second level, row 10, and this pic provides a pretty good idea of how things looked from my seats: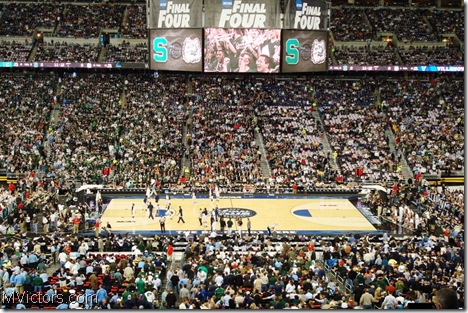 Imagine how things looked from behind the hoop in the second and third levels, the perspective I call "Spartan Hears a Hoop":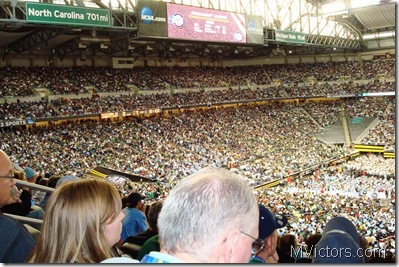 I scored a copy of the NCAA Men's Final Four record book.  There's a lot of great stuff but here's one interesting tidbit.  We all know that the highest rated game of all time is the Michigan State vs. Indiana State (Bird vs. Magic) game from 1979 which had a 24.1 rating and a 38 share.  According to the book, the record for Most-Watched Telecast in terms of # homes tuned is not the '79 final but rather the Michigan-Duke game in 1992, with nearly 21 million homes. The next highest?  The Fab Five's return to the finals in 1993, with 20.6 million homes.   Number 5 is the 1989 Seton Hall/Michigan final.  The Bird v. Magic game is eleventh with almost 18 million homes.
Speaking of the Fab Five, they held their non-reunion celebration at Elysium Saturday night.  I didn't make it but Beth from bigtenfever.com did and sent me a few pics (Jalen signing left, chatting with Juwan right, click to enlarge): A few takes on the experience via Beth, prompted by a few questions from me:
– I don't believe any charity was involved.  It was mostly just hanging at the club.
– To get to meet [the Fab Five, err, Four] you needed to pay for VIP to go upstairs. – They came in around midnight
– I didn't see Magic or Braylon and some of the others that were mentioned. 
– Didn't see any [MSU or other] hecklers.  
Here's what Jalen signed for her, very cool:
I'll be there Monday and looking forward to it.  I see that North Carolina is a 7+ point favorite and I understand that.   I accept the many of the reasons as to why this game is different from the 35-point crushing earlier this season at Ford Field, but I'll be surprised if State can take them down.  Surprised but not shocked.