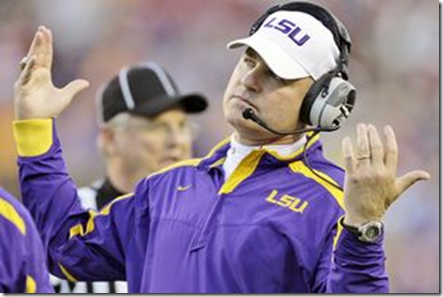 WWBD
[Special guest post by Brandon Harig.  Brandon is a Michigan alumnus who has returned to the great white north after years in exile.  Harig enjoys, "Michigan not sucking and people who don't use mlive", and you can find him on Twitter as user NewAwlins.]  For more on the current Miles buzz, check out mgoblog's post this morning.]
During the 2009 season, I found myself crumpling my hat and swearing into a pitcher of beer at a bar in New Orleans called Cooter Browns.   An embarrassing Indiana squad was giving Michigan fits and the tide within the bar had swung. Whereas we were merely some Yankees cheering for a crappy team, now we were the target of a variety of morning drinkers. Gator Bait and Purple Tigers united in the IU arm motions as the game slowly seemed to slip away, supporting the one, essentially quiet, Indiana fan in attendance. Michigan ended up winning the game but the prick nature of the SEC could not have been captured better.
I mention this story not because it is all that emotionally scarring or, really, all that notable. Instead, I introduce a piece on The Hat with this story because it essentially captures the situation surrounding Michigan's current coaching search. We find ourselves burrowing into our own fandom, dying a slow death while hoping for a positive outcome that, assuredly, may end up with some success but likely won't be worth the journey.
This story of Cooter Browns doesn't end after Michigan slipped past the Hoosiers. The attention shifted off of us quickly when the Mississippi State game suddenly became real and not just a drag-ass effort. But for a goal line stand at the end of the game, LSU would have lost the game. And in this weird moment, where people who had been ripping us just 20 minutes before, three separate people walked up to me and said a form of the following: "Wanna trade?"
This is how LSU has come to appreciate their National Championship coach – a coach who had just come off of a 3-9 season and looked shaky against a Big Ten bottom dweller would be a welcome replacement. Seriously.
Les Miles' relationship with Louisiana State University and its fanbase is slowly becoming a part of anecdotal lore within the college ranks and Michigan's near miss in courting him but for a Herbstreit Hiccup has only increased it. His antics, and questionable calls, have only turned up the heat. Grown men get into shouting matches over Miles, which seems typical of any fan base until you realize they are arguing about when he should have been fired. He's given zero credit for the championship, to the point he's ridiculed for almost screwing up Saban's "gift," that being a roster built to win. Visit Tiger Droppings.com when Miles is out as coach, the site will likely collapse in a collection of gifs depicting pandas hugging and penguins happily hopping.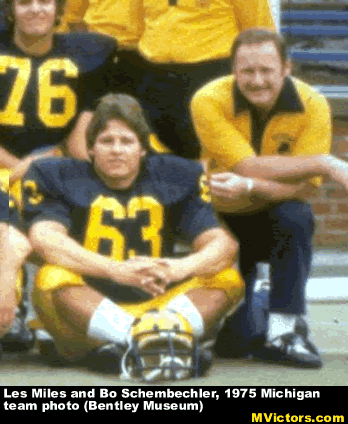 For a Michigan fan in Louisiana, it doesn't become a talking point of football powers or strategy. Everyone wants to know one thing: "You think Michigan's going to take him?" There's a hint of optimism, like a child who peppers his neighbor with questions of hope regarding a possible Nintendo that might now only be 50 feet away. Make no mistake: if Michigan took Coach Miles, Bourbon Street would be littered with confetti.
So the point is made – his departure would not cause a tear. Its relevance to what Michigan would be once he sets foot on the tarmac of KYIP is this: living in the pressure cooker that is the SEC, with a fanbase that wears its loathing on its sleeve… it's changed him.
Make no mistake, Miles is a competent man. However, since winning the championship, he has seemed way more rattled and lost in the moment than ever before. Having grabbed the brass ring, he has now seemed distracted by everything around him. Simple fundamentals like spiking a ball just escape him at times. While the argument could be made that Big Ten games go at a slower pace (lolSECspeedlol), the fact that the previous coach has been destroyed for his inability to teach things like tackling, yet Miles did not have a quarterback who would be able to know what he should do in the moment is unbelievable.
It is without a doubt, and important to note, if Les Miles brought with him the type of shenanigans he has slowly being exposed for, the Detroit media would chew him up like a blade of Baton Rouge grass (see MGoBlog for a quality recap of all things evil/Les Miles/SEC). If Rich Rodriguez was castrated for offering scholarships to problem players, what would be done to Miles for taking back scholarship offers from good, genuine young men? Bo never died his hair yet the recent 'do that Miles showed off captures the entire situation his coaching tenancy has become: a guy trying hard to look younger and capable all while the game seems to slowly be slipping through his fingers. His inability to decide on a starter has been decried and is symptomatic of the fact he is so desperate to get it right that he might second guess himself into getting it wrong.
One thing he can be credited for is an understanding of quality in defensive coaching. The current DC, Chavis, would be an outstanding addition to Big Ten play and each one preceding him would garner nary a grumble. LSU's recruitment of quality talent has been outstanding and they have lived up to their potential, with Patrick Peterson an excellent example of a quality commit being transformed into a juggernaut under Miles and Company's tutelage. On offense Miles has been hit or miss, with the Baton Rouge mob tapping their toes idly waiting for OC Gary Crowton's next miscue.
From a general standpoint, UM fans could feel comfortable that Miles is willing to adapt to his own recruitment and staff. His deployment of Matt Flynn and the likes of Ryan Perrilloux during 2007 demonstrated a flexibility in the offense to cater to its strengths, or the situation of the game, and the LSU offense has shown its share of smashmouth and speed. But with the aforementioned vulnerability on offense, Miles has had to rely heavily on his defense due to poor playcalling that put the game in jeopardy all too often. Perhaps the recent Tennessee 12 man debacle helps illustrate this point: quality game management s something that fails to be achieved year-in and year-out. With the right parts, Miles has been able to absolutely destroy the competition (see: MNC against OSU). But when it falls upon him to succeed through coaching, Miles has left much to be desired. Short of getting a new, young and upcoming coordinator to park beneath him as an heir apparent a la Bo/Moeller/Carr, he is something of an old hire with little benefit should the Miles Project go awry. This, in fact, might be the only part of a Miles hire that would smooth feathers within the Michigan ranks: taking Miles along with a contingency plan hired at high six, low seven figures making sure the boat doesn't sink.
Would Miles, as a coach alone, be a solid choice for Michigan in its coaching search? Ehhhhhh…
Winning a championship does not just happen accidentally. Beating the vest, albeit on home turf, is not an easy accomplishment and his hire would get the attention of the conference. However, hiring Miles comes with the baggage of knowing he's basically there to stay. There will be no third year fire of a Michigan Man. Miles is 57 years old and coaches tend to not suddenly figure things out as they near 60; the failure to game plan a fourth quarter can only get worse. Would Michigan go 3-9, 6-7, 7-6 in the coming years? No. However, a decade of 8-9 wins with 2 out of 3 wins over MSU and Notre Dame would be way more likely than a MNC. And since that seems to be the only thing that's MLIVE ACCEPTABLE, hiring Miles would be a mistake.
In my opinion, if Michigan takes Miles we will have fallen victim to one thing: Tiger Bait.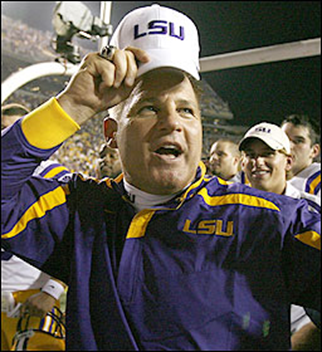 [Ed.  Thanks Brandon!]