A handful of readers know I'm doing a deep dive researching the Little Brown Jug, stemming from some work I did on the fascinating 1909 season for Brian Cook's upcoming Hail To the Victors 2009.   There will be much more on this in days to come, but the bottom line is that I found peculiar quotes about the origins of the Jug rivalry after the '09 Minnesota game and it left me curious.  I decided I wanted to know everything there is to know about the rivalry and the jug itself.
I've interviewed a bunch of folks, including Ryan Forrey, master potter at The Henry Ford Museum/Greenfield Village.  He's an expert in pottery from this era and he provided some incredible insight to this piece of pottery.
The athletic department was kind enough to invite us to inspect the jug first hand; here's Forrey getting a good look: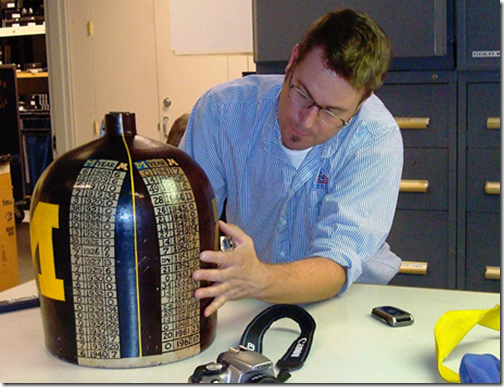 I've learned quite a bit and I can tell you that many elements in the official Michigan and Minnesota accounts of the jug history are either misleading or in a few instances, just wrong.
Again, much more to come.
Related:
* 1924 Minnesota-Michigan program, featuring the Little Brown Jug (eBay Auction – Jug on the cover).