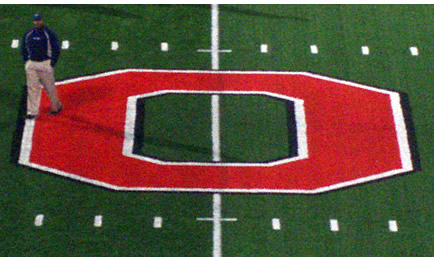 [Special feature: Buckeye 'Schlimmy' was in Columbus this weekend for the huge Penn State game, and was kind enough to share a few memories, takes and photos from the day.]
First off I must mention that the atmosphere for the game was incredible, I'm glad Ohio State manages to sprinkle in a night game once in a while (rumor has it that next year's USC game will be at night). Onto the game:
It was obvious after the first couple possessions that the game was going to be a slugfest and field position was at a premium, and more than likely a mistake would be the determining factor. What surprised me most was both teams inability to run the ball, credit though should be given to both teams D lines as they dominated the game. Unfortunately a mistake was the determining factor as on a 3rd and 1 with about 10 minutes to go and the Buckeyes in Penn State territory with all the momentum, Pryor made a freshman mistake and tried to make a big play when simply plowing ahead for a couple feet was all that was needed. Obviously that was the biggest play of the game and give Penn State credit they took advantage of the turnover and scored the only touchdown of the game.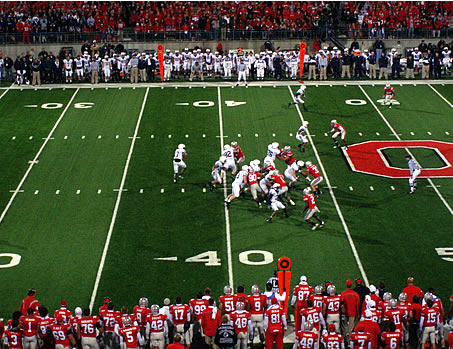 There were a couple Penn State fans sitting right behind me and honestly they were great, we had the usually football banter going on and of course disagreement when penalties were called…wait a second scratch that comment as there weren't any penalties on Penn State the whole game!!!
It's looking like Penn State will be playing for the national title (I think they will have the same outcome as Ohio State has had the last two years) which might open the door for the Buckeyes to go to the Rose Bowl for a possible rematch with USC or the Citrus Bowl versus a SEC team, either way not looking promising for a Buckeye bowl win.