Photos: jarrodbunch.com
Continuing the interview with former NFL first round draft pick, Michigan captain and now, accomplished actor and production company owner Jarrod Bunch.  In Part I, we talked about his acting career, on his beef with Samuel L. Jackson and about surviving in Hollywood. 
In part II, we talk a little more about acting, his desire to return to the MMA Octagon, whether he can handle Hugh Jackman and get a little into last season (hint: furniture was moving after the Toledo game) and his thoughts on coach Rodriguez.
Are there any roles that you were very close to getting that we might recognize?
Bunch: Yeah, and this hurt, too. For Any Given Sunday I went in to meet Oliver Stone a couple times for the running back role. I thought for sure I had it.  But then they told me gave it to LL Cool J.  That one hurt.
Then it happened again. There was a show called Playmakers on ESPN, it was about life in the NFL but they had a different name for the league.  I was up for the running back role in that one and I thought for sure that I would at least get a serious look at that.   The role was for a running back, the character's wife's name was Robin, my wife's name is Robin [laughs] the character wore the same jersey number I wore in the pros, the character hurt his knee just as I had in the pros. I didn't get that and I was like, 'Oh my god…come on man'.
Do they give you reasons when you don't get a role, or is it just 'No'?
Bunch: They often just tell you, 'No.' When you audition, the casting director might say, 'I want you bring you in so the director and the producers can see you.'  With Any Given Sunday, I went with the casting directors, I went in the producers and I went in and met with Oliver.
With the ESPN show, the casting director didn't even bring me in to see the producers. That's what really made me mad. I'm like, 'This character is me and you're not even going to bring me in to see the director?  You're not going to at least have the director take a look at me?'
You have to have a relationship with the casting directors. Sometimes casting directors have people that they want to move on, and with others…if they don't know you, they don't know you.
You've been involved in a MMA fight [He lost to Michael Westbrook in his only bought in 2005], have you considered stepping back into the Octagon?
Bunch: I have. The one MMA fight that I did I had no training in anything except Tai Chi, which I did for therapy on my knee. It worked so I continued to do it. But that's not a cobatitive martial art [laughs] and I didn't know what I was doing.
Since then, I have been training in jiu-jitsu for almost four years now and I'm a brown belt.  I've won world championships [in other belt classes]: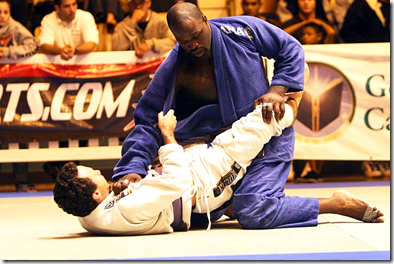 Photo: graciemag.com 
So, now that I'm doing jiu-jitsu I would love to get back in there just to put that 0-1 record away.
I see that Hugh Jackman got pretty yoked for the latest X-Men movie. Are there any mainstream actors that you wouldn't want to mess with?
Bunch:  No. [laughs]. But I would not want to have a confrontation with any of them.
You were recently back in town for the "130 Years of Michigan Football" reunion weekend. How did it go?
Bunch:  Yes, it was an excellent event. A great time. I saw guys there that I had not seen in about 20 years, some guys I had not seen since my freshman year at Michigan. We took a lot of pictures. A lot of guys put them up on Facebook.
The reunion happens every five years, and this time it was the same weekend as the Griese-Hutchinson golf outing. It worked out, because we were able help out and do some things to benefit the [C.S. Mott] Children's Hospital.
What's your impression of Rodriguez so far? Did you had a chance to meet him?
Bunch:  All the former coaches were there [at the reunion event] except Bump Elliott, and he sent in a video.
Listen, I think Rich helped himself this weekend.  Up to this point, I didn't think Rodriguez that was trying to keep the tradition of Michigan.  It seemed to everyone that he brought in whatever West Virginia was doing to Michigan.  A lot of people were not happy.  But he was there [at the reunion], and he spoke saying that he understands the tradition and this thing is going to get fixed. He helped himself.
I'm very curious to see how this year goes. I did not like what I saw last year but after what I heard him say, I think he's on the right track.
Does that echo the sentiment of your peers, the other former players?
Bunch:  I think it's split. I think a lot of people don't like him and don't like what he's doing. And a lot of people are like me and say, 'Give him a chance. He gets it.'   I think he gets it and I think this year is going to be different.
Do you follow the team pretty closely, do you watch them when you can?
Bunch:  Unfortunately they don't have all the games on out here but I do watch them when I can. But when I did follow them last year it was all bad news. I mean, you did not want to be around me that day we lost to Toledo, ok? [laughs] That day I was watching TV and it came across that Michigan had lost to Toledo…..you didn't want to be around that day [laughs]. You did not want to be around me that day.
Thanks to the tax breaks offered by the state of Michigan, there are many films being shot in the area including Ann Arbor. Would you like to come back if the opportunity to come back to Ann Arbor for a film or a shoot?
Bunch:  Definitely, that would be very cool. I know that Michigan has a lot of incentives to do projects there. If I read correctly there are a lot of projects on schedule to be shot in Michigan and Detroit area this year. So I would love have that, I would look forward to that.
————————————————————-
You can keep up with Bunch's goings on at jarrodbunch.com is up.  To check out his production company's latest projects, head over to generatorcontent.com.  Finally, keep your eyes peeled this summer for new projects on TV and on the big screen.
Related:
Part I : Interview Jarrod Bunch
Follow MVictors on Twitter