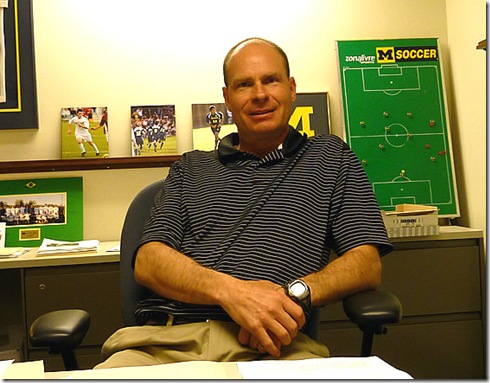 I caught up with Michigan head Soccer coach Steve Burns on the field prior to the Wisconsin game in anticipation of the huge NCAA battle against Central Florida on Sunday.  Dig it:
MVictors:  You've got Central Florida tomorrow and you went down and scouted them this week.  What opportunities do you see and what worries you?
Burns:  They are a talented team.  It was good to see them because they are a lot better than I thought they were going to be.  Their strength is in their midfield–they run a 4-5-1.   I think the biggest thing is that they're a team that's not going to beat themselves, meaning they've got discipline and they play within themselves.  We've got to go out and beat them.  It's going to be a good game.
MVictors:  I understand that tickets are scarce (for Sunday). What kind of crowd do you expect tomorrow?
Burns:  It could be upwards of 4,000.  The chairback seats sold out in about two hours and I've had a lot of requests for tickets.   I went out and bought 50 tickets and..I'm out, I'm out! [laughs].  
MVictors: What's going to happen tomorrow?
Burns:  Well I'm hoping that it's not like this [gesturing to the sunny sky].  I'm hoping that it's gray, rainy and bitter.  I don't think it's going to be like that, but there's going to be a big adjustment for them. 
They are flying in today.  I don't know why they wouldn't have flown in yesterday.  They are staying out at the airport because there are no hotel rooms.  So—the company line is that it's going to be an entertaining game.  They are a really high scoring team like us, so I expect it's going to be back-and-forth and wide open with lots of goals.
MVictors:  Is this the biggest game in Michigan soccer history?
Burns:  Well, in 2003 we played in the Elite 8 at Santa Clara for a chance to go to the Final Four, and that was pretty big.  But that was our first run ever in the NCAA tournament so we really didn't know the significance of it and we didn't appreciate it as much as we're appreciating these moments here.