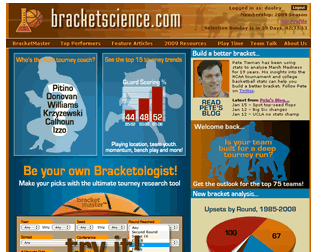 This week I sat down with Pete Tiernan, founder of bracketscience.com, a website with a comprehensive database that allows subscribers to slice and dice historical NCAA tournament data.  Tiernan also provides statistical trends, charts, tips and strategies for busting up your pools. Over the past several years he's contributed a column to ESPN.com insider$ and in 2009 will be featured at CBSSports.com.
Tiernan holds two degrees from Michigan and taught for a while within the English department.   His ties to the M basketball program run deep as his dad, 'Boom Boom' Tom Tiernan, laced them up for the Maize & Blue back when they played at Yost Field House in the early 1950s.
We met in downtown Saline at the excellent Brecon Grille and over a few pints, he was kind enough to answer questions about Beilein, Michigan, tourney trends, the selection committee and more.  We close with a cool story about his son who played for the Grand Valley State team that shocked Michigan State at Breslin last year.  Enjoy:
MVictors: Michigan basketball is becoming relevant again thanks to John Beilein. Let's cut right to it, how does Beilein's tournament coaching record stack up?
Tiernan: Michigan made a very good choice.   John Beilein is the top overperforming active coach of the modern tournament era. There's a statistic that I have called PASE (Performance Against Seed Expectation) which compares what a coach or team or conference should win based on their seed, versus how many games that actually do win.
For coaches with at least four tournament appearances, John Beilein's expected number of wins was just 2 ½ and  he achieved 6. And he's exceeded seed expectation in three of his four tournaments.  He's consistently overachieved.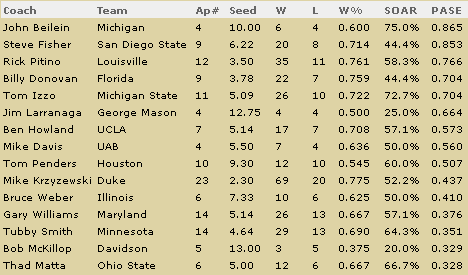 MVictors: Are there any regular season characteristics that indicate a team will excel/overachieve in the tournament?
Tiernan: I did an analysis last year looking at the attributes [of teams coming into the tournament] that lead to overperformance in the tournament. By far the biggest one was scoring margin. If you had a team that beats its opponents by an average of 15 points a game, their PASE is +.5, meaning that they on average, overachieve by half a game in the tournament.
MVictors: Once in the tournament, are there statistical tendencies of teams that overachieve in tournament play?
Tiernan: Last year I looked at a bunch of different numbers, from rebounding margin, to turnovers, shooting percentage, free throw percentage and more. The stat led to the most overachievement was not three point shooting percentage, but the amount of three point shots you take compared to overall field goals. Of course Beilein is huge on that. It didn't matter what their shooting percentage was. What mattered was that they took the shots.

MVictors: Speaking of Beilein's style, you've watched a lot of Michigan this season, what are your impressions?
Tiernan: When you think about the Beilein style, it's very unorthodox.   His teams always get out-rebounded.  Always.   You watch Michigan play and it just drives me crazy.   They give up so many offensive rebounds. You'd think intuitively, 'This can't work! Why is this working?'.
I think it has a lot to do the fact that he's going for offense, he's going for turnovers. They are not going to get beat on fast breaks and they're going to try to generate as many fast breaks as they can. His whole thing defensively is 'We're not going to give you an easy basket.'  And the offense. I've never seen a Michigan team get up the court as fast as these guys. Maybe with Ricky Green or Phil Hubbard. This team is pretty fast.
MVictors: As of January 12, Joe Lunardi of ESPN currently projects Michigan as a #9 seed playing in the South.  Is getting an 8 or 9 seed a bad break because of the inevitable game against a top seed in the next round?
Tiernan: It's actually better to be a 10 seed than an eight or a nine. I've studied every seed match-up and the nine's hold a 52-44 edge over eight seeds since 1985, when the tournament expanded to 64 teams. In round two, 9 seeds are 3-49 (against #1 seeds). Seven seeds beat 10's by a 60-36 margin, but in the second round, they are just 18-42 against 2 seeds. But look at 10 seeds: they are 18-18  in the second round.   If I were Michigan I'd rather fall to a 10 or even an 11.

MVictors: Is Michigan historically/statistically at a disadvantage for completely lacking recent tournament experience?
Tiernan: There's only one team that won without being in the previous years' tournament—that was Syracuse in 2003. There are actually six characteristics of 17 of the last 19 winners:
* They score 77+ points/game
* Their scoring margin is +10
* They're from the big 6 conferences
* They went to the previous year's tournament
* Their coach has at least five years of tournament experience
* They're seeded 1-4
There's only one coach who won the championship in his first year, and that was Steve Fisher of course. If you take those six statistics you can see who's most likely to be in the championship. I did the analysis last night, and there's seven teams that have those characteristics. I don't have the seeds, of course, so I looked at the current top 20:
* Duke
* Pitt (barely, based on scoring margin)
* Michigan State (also barely based on scoring margin)
* North Carolina
* Notre Dame
* Clemson
* Connecticut
MVictors: If Michigan or more likely Michigan State find themselves in the Final Four in Detroit, is there notable advantage for teams playing at or near their campus?
Tiernan: I've looked at proximity to home, within 100 miles. Overall, there is a slight advantage, about an eighth of a game advantage or about 12 percent.
MVictors: Talking about seedings, if you had an audience with the selection committee what would you tell them, what do they consistently miss?
Tiernan: When you ask yourself, 'What does the selection committee want?' I guess they'd want that they seeded so correctly that the high seed always won, and that we'd end up with four #1 seeds in the Final Four.
I actually think they are getting more statistically savvy.   I bet you they are looking at things like Ken Pomeroy's possession-based statistics.   Otherwise it's very hard to take a Memphis for instance, look at their performance in their conference which is a soft conference and compare it to playing in the Big East.
I never really have a lot of problems [with the seedings]. Every year there are teams that seem to be criminally omitted, and other teams that get in that probably shouldn't.  I would say that certain coaches get overseeded, which I think usually to those coaches detriment than anything else. Bobby Knight for years used to get overseeded. If you look at the statistics for his team, you'd say they should have been a 7 or 8 seed, and damned if they didn't get a 5 or a 6 seed. You almost wish you could take names off of the teams, look at the numbers, look at who they beat. If there was some way of doing that I think you'd see a lot more surprises in the seedings.
MVictors: You've written for ESPN.com on the insider site in the past couple years, I understand you are moving to CBS sports this spring. When will we see your first columns?
Tiernan: They'll start running three weeks from selection Sunday, then they double up the week of Selection Sunday, and the week after.   I was behind the "Insiders" [pay] site at ESPN. I look at ESPN vs. CBS and I'm sure that ESPN dwarfs CBS in traffic, but CBS seems to handle things like commenting much better. On top of that, my columns will be available to anyone not just subscribers.
MVictors: Ultimately pools are a form of gambling, and you're not promoting that aspect at all. But are a large number of your subscribers looking for a gambling edge?
Tiernan: As much as I try to downplay it, I do get subscribers for that reason. I don't bet. I do enter pools and I run a pool on my site. For me it's a friendly way to get involved in the tournament. I've won my share of pools but it's not like I'm going to win the ESPN tournament challenge. [laughter]
I'd say about half of the subscribers are just passionate about it like I am. Then, there are the guys cramming for the test on Selection Sunday night or Monday, all they want is the answer. They say, 'Pete, what are your models?' I put up eight statistical models. And they want them because they want to bet them. I try to caveat the hell out of the models. I say, 'Use the statistics for guidance but don't use it as gospel'.
The tournament is maddeningly unpredictable. Even when it's predictable it's unpredictable. Two years ago who'd of thought we'd only have three upsets? I put together a thing I call the Madometer, which is a measure of tournament madness: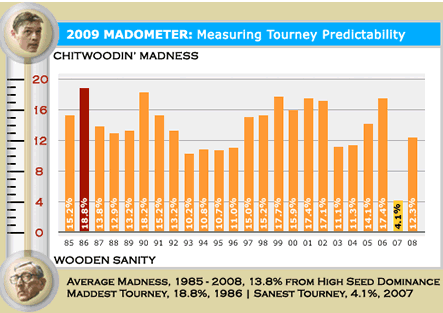 MVictors: Your son plays hoops at Grand Valley State, and was part of the team that upset Michigan State in East Lansing in an exhibition last season, correct? That must have been a proud moment for your family.
Tiernan: [big smile]. That was… [pauses]. I'll never forget it. I mean, I'll get emotional talking about it.
Bobby was 5' 9" as a freshman [at Saline] and as a senior he was 6' 5". In his sophomore season he was the starting point guard in the beginning of the year, at the end, he was the center. That's how much he grew.
He went up to Grand Valley on a football scholarship. Like any other kid, he's up there and he thinks his shit doesn't stink. He goes to football practice and realizes, 'holy cow. There's a lot of good football players here.' So he quits and we were disappointed. Then he decides that he's going to walk on the Grand Valley basketball team and he makes team.
Going into the year t hey thought they could beat Michigan State. They were so sure. So we go to Breslin and it was unbelievable. If you've ever been to Breslin you know it's a lot different from Crisler. Half of the court is surrounded by rabid students and fans. And they went in there and they beat 'em. And it wasn't a bullshit game. It went into [double] overtime. We had a guard who was the best defensive guard I've ever seen, and he could hound Neitzel. All the guys on the frontline basically negated Suton, Gray, Morgan and Naymick. And they beat 'em.
My dad was there and he hates Michigan State. Just hates them, like any good Michigan man. Just can't stand them. It was just the proudest moment for him. He was beaming after the game.
That night they were on the top 10 on ESPN.   Bobby did a chest bump with the guy that hit the winning shot. I think they really knew they could beat them. And for Bobby, he'll always have that. It's one of those things I try to tell my son, 'You'll always have that'. Yes, life is more than sports and it's more than what you did in high school or college, but damned if it isn't satisfying.   He'll always have that.
[A little taste:]


[Ed: Definitely look out for Pete Tiernan in a couple months on the radio, on CBS Sports and anytime on bracketscience.com. I may try to get with him a little closer to the tournament if Michigan looks like they are going to sneak in.]