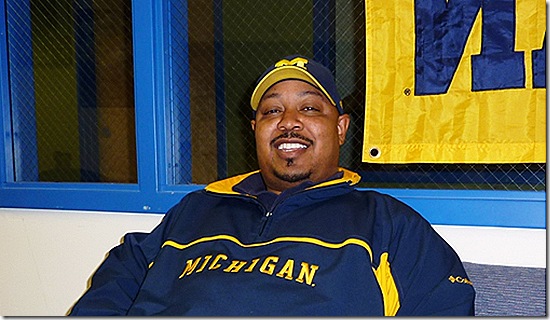 I've been trying to catch Sam Webb for an interview for quite a while now and recently I finally had the chance to sit down with him.  
He co-hosts 'The Michigan Insider' daily radio show on WTKA 1050AM in Ann Arbor with Ira Weintraub each morning. Webb also writes a column for the Detroit News covering recruiting. The balance of the time for the 32-year-old Flint native is gathering and publishing information on recruits as managing editor for GoBlueWolverine.com. He's a busy man, so busy in fact that he was recently instructed by a doctor to take on a new job: getting a full night of sleep.
We chatted for about two hours about radio, how he got started in recruiting, his rivals at The Wolverine, coach Rodriguez, his patented 'gut feelings' and much more.  I'll publish some of the interview here and the rest will hopefully be found soon over at GoBlueWolverine and in GBW magazine. 
MVictors:  Fans seem to dwell on the star ratings of prospects.  Do you have any say in the star ratings?
Sam Webb: No. No say. The regional guys get together and come up with the rankings.
MVictors: It seems like that's kind of a big deal.
Sam Webb: It is on paper, but in practice, I don't think there's a big difference between a three and a four star.   It is all opinion and some of it politically influenced. Some networks are more SEC conference based. Some analysts are more tied to particular schools, so their recruits are rated more favorably. Notre Dame has benefitted from that. Michigan has benefitted from that in the past, not as much anymore [laughs]. There's a lot in play when it comes to the rankings.
I tell people to not take the rankings, or recruiting in general, so seriously. It's a guide and it gives you a picture of what things look like and it gives you a glimpse at what kind of athlete a guy may be. But a recruiting analyst is never going to have as much information on kids as coaches, so what you have to do when it comes to recruiting classes is trust the scouting ability of your coaches and wait to see if they prove worthy of that trust. You'll see that eventually on the field.
MVictors: Is player rating something you'd like to be a part of?
Sam Webb:  I wouldn't do rankings even if they gave me the opportunity. You'll notice that when I write in the Detroit News, I never ever make player evaluations. I always use the analysts for that and part it is because the News is a different medium and you are supposed to attack that job in a more unbiased way. I don't give people an avenue to say, 'He's just ranking this kid higher because he's going to Michigan.' I always use the analysts to avoid that sort of perception.
MVictors: Are you able to share information with the Michigan coaching staff? And the other way around, because I'm sure they have information that you'd like to have, and you have information that they'd like to have.
Sam Webb: You can volunteer information to Michigan, they just can't reciprocate. They can't tell you to call recruits. They can't do interviews on recruits. They can't do anything or any sort of dealings with you. There are a few questions they can answer about recruiting and they are very, very broad questions and there are a limited number of them.
MVictors: Do you talk to the Michigan coaches and tell them what's going on?
Sam Webb: I'll email information and say, 'This is report on this guy', or 'this is what I got on that guy'. We'll volunteer information, but we can't go beyond sending out reports like that.
MVictors: Looking back, what are some of the names of recruits that you just knew after seeing them that they'd be stars.  And who are a few of the guys that didn't make it that really shocked you?
Sam Webb:  I'll start off with some of the guys that didn't make it, because that's easier. Kelly Baraka for sure. I thought he was going to be unbelievable. Antonio Bass I thought was going to be phenomenal and he's a guy who didn't make it for another reason. I thought Justin Fargas was going to be a superstar here.
As far as guys that made it, I knew Chad Henne was going to be good. When I saw Lamar Woodley in high school I knew he'd be special. I tell you what, when I saw Vernon Gholston I knew that guy would be really good. When I saw Reggie Bush I knew there would be no question. Same with Adrian Peterson, no question.  And Tim Tebow.  When I saw him his junior year he was spectacular. Ted Ginn is another one.  He had fantastic speed but I knew he wouldn't make it as a corner, and he was originally recruited as a cornerback.
There are a few guys I feel about that right now. I think [USC commit] Kyle Prater will be an absolute monster as a college football player. I think Seantrel Henderson will be an unbelievable college football player, I don't think there's any question about it.
MVictors: What is your feeling about other sites, like blogs, that will see a breaking story on a premium site and share it on their site in a post or a forum?
Sam Webb: I haven't really talked to anyone about protocol but if you're asking me how I'd like to see it handled, if a premium story is on GoBlueWolverine and five seconds later it is regurgitated on say a blog site, that certainly isn't the fairest of practices.  I'd like to see, if they have to mention it, that they write something like, 'Big news on X site, click this link' but realistically that isn't happening. What happens is someone writes that this is the story, and mentions that it came from a pay site.
What that does is compromise the ability to get those stories. For Scout and Rivals, it really doesn't have much impact right now but eventually you'll get to the point, and I guess it's the slippery slope argument, where you won't have any information gatherers. You tap it so dry that no one will pay for that service anymore.
MVictors: What the biggest difference in the recruiting experience between Coach Carr and Coach Rodriguez?
Sam Webb: I think both place a lot of value on recruiting players that they've seen in camp. I think both coaches had the majority of the coaches recruiting in the state of Michigan, then they fan out in the area with a focus on Ohio and Pennsylvania. When Carr was coach, they did a lot in California, and Kentucky, and a lot in New Jersey. With Rich, he's got a large focus in Florida but no as much in California.
MVictors: What about the experience of the kids?
Sam Webb: They both espouse the virtues of Michigan, and did so in a way that is appealing to players. With Lloyd, it was more from a standpoint of having been part of that history. With Rich, it's more with about a reverence of history. Lloyd was speaking more first person, 'I was with Bo Schembechler,' and 'This is what we did and what it meant.' Whereas when Rich talks to kids, the reverence when talking about someone like Bo Schembechler is almost from the same standpoint that the kid might have. He's selling it and he feels it, but he's talking about in a different way than Lloyd would talk about it.  I don't think that puts lesser value on it; it's just different.
When you spoke to Lloyd, he was bigger than you and I don't mean that in a bad way. You'd see him and it was like, 'That's Lloyd Carr". When he spoke you felt like it was almost part of Michigan history talking. When you speak to Rich, you feel more like you're talking to your neighbor. It's more of an eye-level rapport. He comes off more as a guy you'd actually hang out with. Not that you couldn't hang out with Lloyd, but you get what I mean. Lloyd was bigger than the room, so to speak. I hope this come off in a denigrating way, either way, for both guys. But that's a difference between these guys.