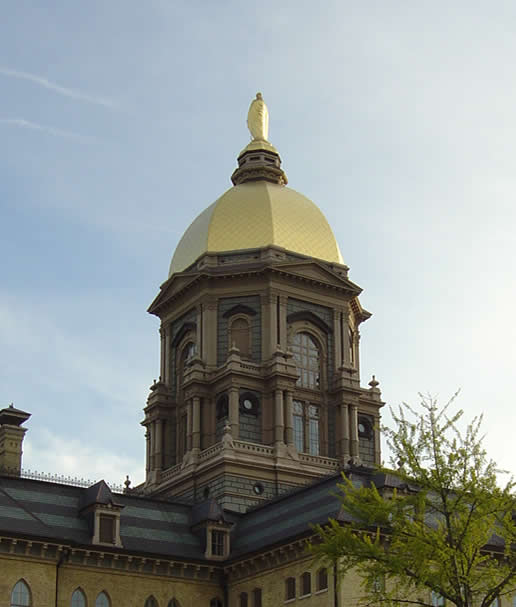 Notre Dame shows Michigan where it hurts
SOUTH BEND, INDIANA SEPTEMBER 12, 2004 I arrived home late Saturday night, threw down my bags and dug into my pockets where I found the crumpled ticket stub. I looked at it a moment then tossed it into the trash. Another great trip to South Bend that goes unfulfilled, another Michigan loss with a team that looks as though is has more talent than the Irish but doesn't get it done. Hmm. Even Timmy Adams (left, with throwback jersey) could help us out.
So what did Michigan do well on Saturday?
Tackling: I can't recall a game where we tackled better. The Wolverines made several open field tackles on defense and on special teams. Overall I thought the defense played well – good enough to win. ND started several possessions in Michigan territory in the second half.
Rivas: The Michigan place kicker got it done. What more can you ask of this guy? – he nailed 4 field goals in the game off the grass.
Henne: While he didn't do enough to move the ball, the guy showed he's a warrior and will stand in there when it is tough. They are doing things they couldn't do with John Navarre, things such as rolling out and throwing on the run. I think that Carr will put Gutierrez back when he is 100%, and maybe play Henne in certain situations.
Tailgating: Some Michigan fans represented well at the tailgate, punishing beer cans and chicken before the game, listening to neurotic Irish fans complain about the state of their football program. FYI – your tailgate party in South Bend is known as a "tailgater".
Here's where Michigan failed:
Punt block: Lloyd Carr and new special teams coach (and recently fired CMU coach) Mike DeBord need to figure out how to protect their punter. They easily blocked one punt and had a chance at a couple more. Maybe it is me, but something just does not look right on their punt formation. It looks like they are too tight.
Vertically Challenged: Best receivers in the country? How about we throw to them down field? Before Michigan got down, we only challenged the Notre Dame defensive backs a couple times. One yielding a long reception by Braylon Edwards.
Catching the Ball. Speaking of Braylon – he dropped at least 3, maybe 4 balls. One caused an interception. One maybe 2 drops is acceptable, but beyond that – come on!
Running Game. I really feel it comes down to this. If Michigan can't run the ball – and has not yet this year, this type of thing will happen. We will lose 4+ games if this is not worked out. Michigan teams must run the ball to be effective. There's no getting around that while Carr is the coach, so get used to it. We must be able to control the ball on the ground and we are not. Jerome Jackson and Mike Hart looked ok replacing David Underwood who went down in the first series, but we did not get it done.