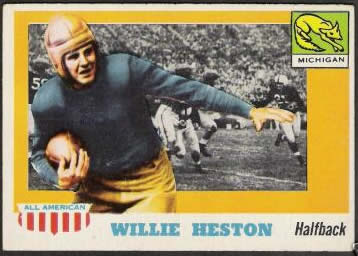 Art director: "Wolf. Wolverine. Close enough. Just print it."
Just about the only good to come out of Saturday's brutal game was of course Hart's record. During the EMU broadcast M radio play-by-play voice Frank Beckmann suggested that Mike Hart may have some work to do to truly catch the Michigan man with the most rushing yards.
That man? Willie Heston, the 2 time All-American that Fielding Yost convinced to come with him to Michigan from California. There's no doubt Heston put up ridiculous numbers during Yost's Point-a-Minute reign of terror. While they didn't keep detailed individual statistics back then, we do know he scored a jaw dropping 72 touchdowns. Beckmann offered that by some estimates Heston tallyed over 7,300 rushing yards. That'd leave Hart way out of reach of Heston if true. Of course it was a different game at the turn of the 20th century. Teams didn't pass and a durable back like Heston ended up running the ball on just about every play.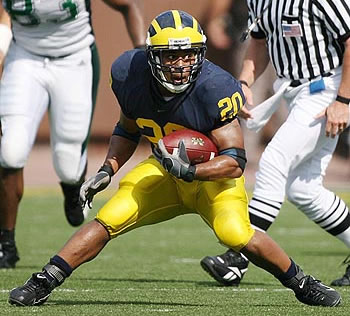 Was Heston the greatest back ever? Again, there's really no way to know. Certainly Hart, Harmon and Heston are in the conversation. I found a quote from a Time magazine on Harmon where Yost reminded folks of his great runner's place in Michigan history:
Surging out of the stadium, a majority of the 54,000 football fans remarked: "Harmon is the greatest football player since Red Grange." But Grand Mogul Yost, who had seen many a star in his half century of football, went further back. Said he: "The greatest since Willie Heston."
It is almost a certainty that he had more yards than Hart. I'm not sure where Beckmann got the 7,300 figure but it's probably not too far off. Realizing were not dealing apples to apples, if we take the data we do have on Heston which is the 72 touchdowns, we can make some projections. If you take the top 20 Michigan runners of all time and develop a ratio of touchdowns to yards, the average comes to 108/yards per score (Hart is closer to 126 yds/TD FWIW). Using the 108 would put Heston just under 7,800 career yards.
Again, I realize it isn't quite fair to compare these eras. Back then you didn't have the option to pass so every score was on a running play. This would obviously justify why a back would have more rushing yards and, this fact would also jack with the yards/TD metric. Bottom line: you have to figure Heston has and always will have the most rushing yards of any Michigan running back.
Perhaps not so coincidentally, it was old Yost himself who spearheaded the move to get the NCAA to standardize statistics. In researching this post I found this little nugget here:
The first rules for compiling football game statistics were drawn up before the 1941 season by a coaches' subcommittee headed by Michigan's Fielding "Hurry Up" Yost, former coaching great