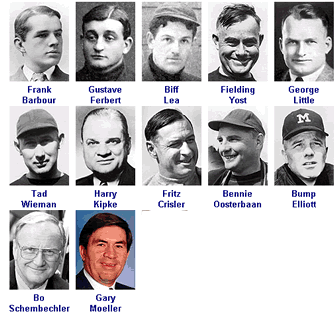 Is Saturday's showdown the last in the Big House for Lloyd Carr? If so, where does his body of work put him inside the Michigan coaching Valhalla? Definitely somewhere below Yost, Schembechler and Crisler, maybe on par with Kipke and above the rest. It's tough to compare eras but clearly it is getting harder to win consistently as the years pass. Overall Lloyd Carr has delivered.
How will Carr remembered? Many of his critics have pegged Carr a great recruiter but a decent coach who should have competed for more national championships. Carr's earned some of the criticism and deserves some of the heat for the way things started this year. Yet many if not most M fans will hold a fond place for Carr due to his performance on the field especially the 1997 championship and for his significant work for Mott hospital and other local charities. When he decides to leave Carr deserves to be honored and I'm sure he will.
For the stat nerds, Carr is in a winning percentage battle with the man he succeeded, Gary Moeller. Coming into the year Carr (.75839) had a six thousandths of a percentage point lead on Mo (.75833). If Carr loses again this year he'll dip below Moeller in this metric (and no doubt live the rest of his life in shame, wondering what could have been.)
You hear the talk of Presidents in their second term working to secure their legacy; the historian Carr is certainly cognizant of his legacy and intends to leave the Wolverines better than he found it, like a boy scout. He did and then some and Carr will be recognized for it.
{democracy:8}