Probably based on the posts on this site around history and memorabilia, I receive the occasional email from folks asking about where to find an old item, or more frequently, asking to put a value on something. So I'm like the those mildly effeminate twins on Antiques Roadshow who price out furniture, except there's one of me, I'm better looking, and sports memorabilia is for nerds cool. Reader Meg sent this note to me recently:
I have a signed copy of Roses That Bloomed in the Snow, a book of poetry by J. Fred Lawton. Is it worth anything?
Good question. I'll get to the value in a minute but first, a little about Lawton. From a umich.edu page on the history of the Michigan Marching Band:
During the fall of 1911, two Michigan students — J. Fred Lawton and Earl Vincent Moore — decided that the University needed a new song. (Since Michigan was no longer a member of the Western Fooball Conference, the words "…champions of the West…" as sung in the Victors seemed inappropriate.) Together, they wrote the fight song, Varsity, which was an immediate hit at the weekly Friday night pep rally in University Hall at which Moore played his new song on the Frieze Memorial Organ. Fischer was in attendance that night and, upon hearing Varsity, recognized its appeal. He agreed to play the march the next day at the Michigan-Case football game.
Yes, people still ask why we sing "champions of the West" but to me, it's a throwback, it's cool and I enjoy explaining why. Don't get me wrong, I like Varsity too, but it lacks the 'fight' in fight song. The Bentley Library has this photo of Lawton and Moore singing a few bars for the cameras: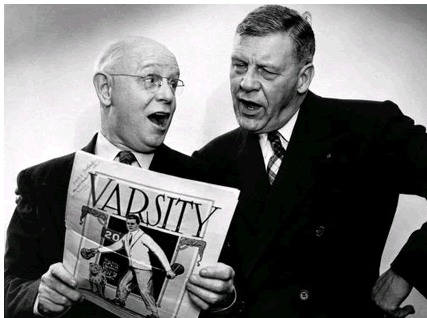 For his efforts Lawton received an honorary varsity letter 'M', one of only a couple dozen to receive the honor for the period 1913-1952 (others included Yost, Crisler, Keen, Fisher, Elbel, Matthaei – you get the idea, this is a big deal).
The book Meg owns, Roses That Bloomed in the Snow, was published by the Michigan M Club in 1959 & is a compilation of poems from Lawton featuring the title piece, which was inspired by the 1950 Snow Bowl in Columbus. After a little digging I found it: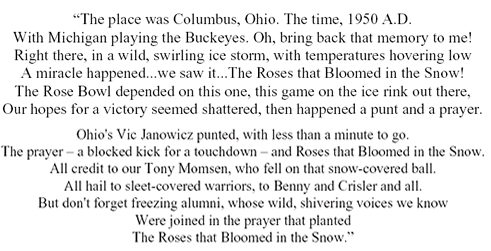 I don't think you need to consult insurers over this one, but it's certainly a nice piece and would have value to Michigan historians. You can buy a copy of Roses online for $12 so I'm guessing a signed version would fetch anywhere from $20-$40.
Related:
– Was the Victors Ripped Off?
– 1904 and the Mountaineer Romp
– The Snow Bowl (1950)
– The Blue get Bombed in the Bronx [great band performance summary in the NYT]