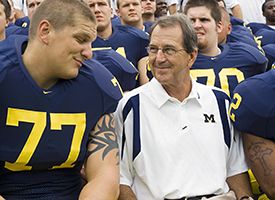 So Jake Long will be the #1 pick in this weekend's draft, signing for just under $58M. Factoids for you:
* He joins the great Tom Harmon as the only Michigan #1 overall picks in the draft.
* While we'll never know the exact figure, taking a swag you figure that Long made himself an extra $30 million or so by staying an extra year at Michigan. Of course, he didn't get paid last season (we hope) and may have cut off a year of NFL life. But all in all, he made out big.
* I know Henne's stock is rising, but perhaps the fellow four-year starter could join Long in Miami as the Dolphins' first pick of the 2nd round?
* What could Long do with $58 million? How about buy every seat for every game in the Big House next season plus every seat at the Rose Bowl on January 1, 2009. He'd have some change left over for parking and Twizzlers.