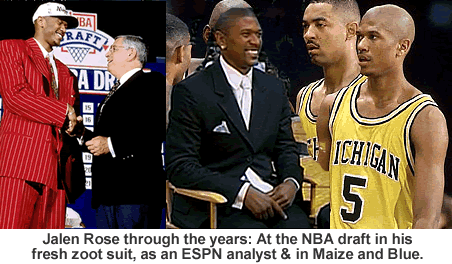 It was great to hear Jalen talk a little bit about the Fab Five, their legacy and even about a certain football recruit this morning on the Michigan Insider with Sam Webb on 1050AM WTKA. He's in Ann Arbor this weekend to be honored at Saturday's hoops tilt against Illinois and says this is a tremendous moment for him [my thoughts on this].
Rose also talked about his thoughts on the University one day having the entire Fab 5 back on campus, the day he hopes happens before he, Ray, Jimmy, Chris and Juwan are using "canes and wheelchairs". Here's the full audio of the interview:
Jalen on WTKA 02-22-08
Play Now
|
Play in Popup
|
Download
Jalen even gave an unsolicited plea for Terrelle Pryor to make the right decision and come to Michigan. Sweet Jesus, I thought the coaching search was a Death March! That said, it's great to know that busy guys like Jalen are concerned enough about the school (and a sport they didn't even play) to chime in. He clearly also follows the basketball team and likes what Beilein is doing so far.
UPDATE: Check out Eric Lacy's piece and interview on Jalen in the Detroit News. And a take from Rosenberg.