The Free Press just ran a story on Jalen Rose and the Fab 5. I haven't seen this before – check out this billboard that Jalen Rose posted at 7 mile and the Lodge: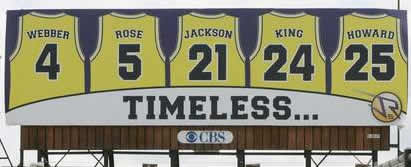 I love Jalen. There's something about the guy that to me, all the negativity around Webber and the Fab 5 seems to not apply to Rose. While I'm still bitter toward Webber around the whole thing yet having been in school with these cats, I can't say I regret the whole experience that these guys brought to Michigan. I was there for their first game together in Ann Arbor and I saw the last from about twenty rows behind the bench from where Webber called the timeout.
It was an incredible time. For recent grads, picture for a minute huge lines of students waiting outside Crisler for general admission seats – hours before the game.
As for why he didn't put the billboard closer to campus Jalen told the Freep "I didn't want to put it in Ann Arbor because I didn't want people to think it's me making a negative statement. Maybe it should be there, but it's not."
Jalen did talk a little bit about the penalties put down on Michigan coming out of the investigation and he adds an interesting perspective:
"Unfortunately, what a couple players were accused — never proven — of doing, our banners got taken down so our memories aren't as fond as they should be," Rose said. "There's no hard feelings and I think some good eventually will come out of it. But, especially when, being in broadcasting, I see what (former Ohio State running back) Maurice Clarett was going through, and they didn't take their (championship) banner down. I see (former USC running back) Reggie Bush and what he's going through. And I see what (former UCLA basketball coach) Jim Harrick goes through, and I notice it's original and unique how our situation is handled."
To be fair, the only 'banners' the Fab 5 earned were related to their appearances in Final Fours while those teams obviously were NCAA champions. As far as Jalen's piece in the current athletic program, he still talks to folks on State Street, all the way up to Bill Martin. Martin even is willing to drape Rose with the coveted M Man title, per Martin: "[Rose] represents everything you want to see in a Michigan man, particularly since I'm from the same area of Detroit."
I say well done to Jalen. Of course I'm sure we'll see a barrage of photoshop-ed versions of the billboard at your favorite blog soon.