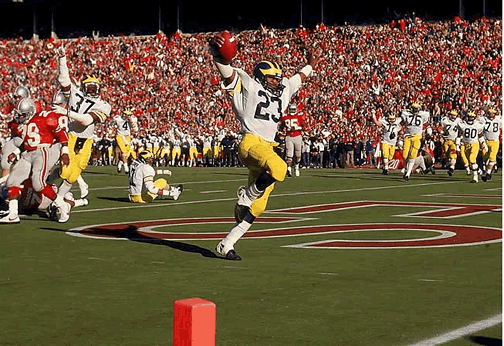 Photographed by: Chuck Solomon/SI
So word is out that legendary Michigan running back Jamie Morris was given his walking papers in his capacity as Major Gifts Officer within the U-M athletic department.  I don't get a bunch of inside information or scuttlebutt on the goings on down on State Street, but rumors (unsolicited, mind you) were abound the past few weeks that Jamie was on thin ice in the new administration.  
Contrary to some message board talk I'm certain it had nothing to do with his call to the Columbus radio station last fall, where Morris seemed to hesitate when asked about Rodriguez's future at Michigan and suggested that Jim Harbaugh would be welcome back (should that day come).
Speaking of Harbaugh, back in 2007, Morris joined the Mike Valenti and the Sports Inferno in the wake of the former QB's comments on the academic standards at U-M.   Morris fired some pretty serious shots at Harbaugh, suggesting he wouldn't have said any of those things if Bo were alive and added that Schembechler would have "whooped Jimmy's butt".   [As an aside, I'll never forget Morris's words at Bo's memorial service in Michigan Stadium.]
A few years ago Morris became co-host with John U. Bacon on WTKA 1050AM's longstanding Sunday mainstay "Off The Field" radio show.  The show is currently on its summer recess and will return before football season.  The show is not officially affiliated with U-M of course so technically Morris can return if he and the station are cool with that.   Today I emailed Jamie's co-host about the future of the show & Bacon replied,  "Last we spoke, he expected to be back this fall."  
We'll see.   If Jamie returns to the show I'm hoping he'll step away from the (former) company line and share some objective thoughts about what he sees on and off the field.