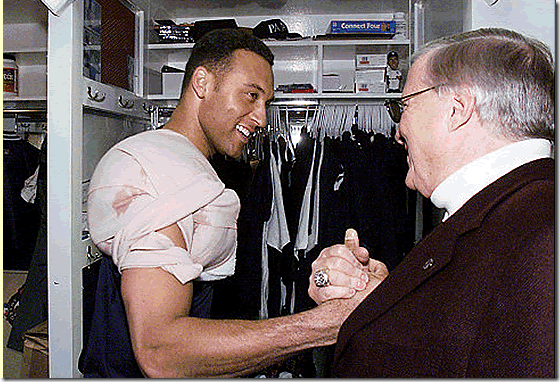 Photo: NY Daily News (umm, is that Connect Four on his shelf?)
Via a tweet from SI's Richard Deitsch, from the ESPN liveblog prior to the Yankees home opener:
12:35: Hal Steinbrenner just told us that fittingly enough, his dad George M. Steinbrenner III, was the first Yankee to receive a championship ring, brought to him up in his private suite before the official ceremony by Joe Girardi and Derek Jeter.

"Quite frankly, I think he was pretty much speechless," Hal said. "Jeter's pretty good a breaking the ice at times like that, and he told my father to take his Ohio State ring off."

According to Hal, The Boss looked at Jeter and sniffed, "Michigan," which drew a laugh from everyone in the room.

"It was a good moment," Hal said.
Follow MVictors on Twitter