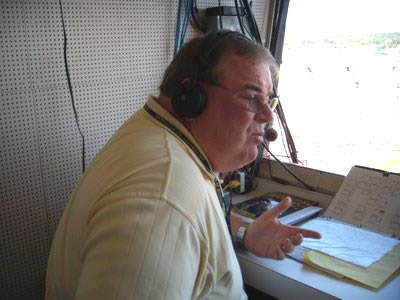 Photo Credit: Wolverine Barista

Some of you out of town fans may not know that former All-American lineman and color man for Michigan radio Jim Brandstatter not only cover the Wolverines, on Sundays he does the same for the Detroit Lions. In all seriousness, this is of course is a dream job for many of us who follow sports and Brandstatter does a great job, but consider the seasons he's presiding over right now.
Through Sunday, consider first the Wolverines. You're reading this blog so you know the story, 2-5 including an embarrassing loss to Toledo, and blow-out defeats to Illinois and Penn State. The laughingstock Lions are worse, dropping to 0-6 Sunday. That makes the teams 2-11 through 13, having been outscored 382-227. Brandstatter's covered every minute of every game, having not the burden of the play-by-play (it is what it is), no. He's had to do the analysis and commentary on the play, on the coaching on the situation and ultimately, on the mess that's unfolding before him.
Hopefully things will turn this week for at least Brandy's Saturday team with the Spartans heading into town this weekend. And the annual MSU/Michigan game no doubt has great significance for Brandstatter, as his father and brother both played for the Spartans, from the Free Press:
His father, Art, played at Michigan State and was an All-America fullback in 1936. Jim's brother, also named Art, was an end for the Spartans in 1959-61. His mother, Mary, was an MSU grad. Furthermore, the family was an East Lansing fixture thanks to his father's job as chair of the MSU School of Criminal Justice.

Jim was recruited by a few smaller schools and by the archrival Michigan Wolverines, but he was not offered a scholarship by MSU.

"My brother Art played at Michigan State, and he was my hero," Jim Brandstatter recalled recently. "I went to all the games. I got to know all the players, the team. I was just a 10-year-old kid. That was great, but when I got into high school and was playing, Michigan recruited me and I fell in love with the place. … So I went against the grain, went to Michigan and never regretted it."
Jim's a class act no doubt and you'll notice he didn't exactly explain why he didn't follow in the footsteps of his father and brother at State. While a scholarship may not have been offered, word on the street is that Jim felt his brother Art was unfairly treated by MSU and coach Duffy Daugherty, and never was given a chance to reach his potential in a Spartan uniform. After seeing how his brother was treated, so goes the scuttlebutt, there was no chance Jim was going to consider going to East Lansing.