Word is out that in a couple weeks uber popular sports radio host Jim Rome will be making a rare visit to affiliate station 1130AM WDFN.   On March 19th, Rome will do his show from the WDFN studios in Farmington Hills then bolt over to Northville Downs to meet listeners, advertisers, a few celebs and media titans.
This won't be Rome's first visit to Motown.  I know he stopped in for Super XL and local fans might recall one of his (now defunct) 'Tour Stops', held at the Palace back in 2003: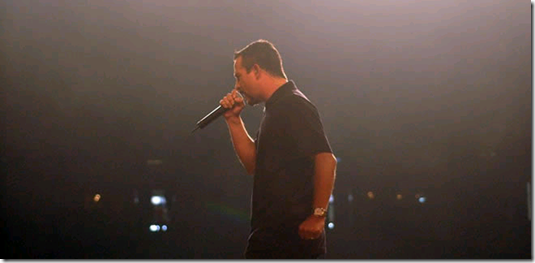 Rome working the crowd at The Palace in 2003
I dropped into the Tour Stop event with my wife (bad idea).  I'll always remember when Ernie Harwell came out on stage, the interview and the rabid fan reaction, and all that….but I also recall that Rome spent a good portion of the show apologizing for dropping an f-bomb before Ernie came on and felt horrible after he realized the old legend probably heard it.
The March 19 event should make for an interesting afternoon given that the beer flows cheaply and in bucket-sized cups at the Downs & the first round of the NCAA tournament will be in full swing.   Toss in Rome along with a few thousand 25-45 year-olds lead by 'Emilio Textavez' and you can bet it's going to get rowdy. 
Rome airs weekdays noon-3 on WDFN 1130AM and I understand the station will be giving away some opportunities to meet Rome at the Northville event.  More details to come.