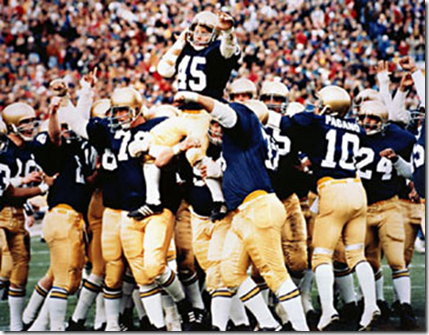 Dan Patrick asked for Irish QB Joe Montana about the Rudy story.  TMZ breaks it down:
Montana, who played on the 1975 Fighting Irish squad with Ruettiger — appeared on DirecTV's Dan Patrick Show this morning and said of the flick, "It's a movie remember … not all that's true."

After a dismissive sigh, Montana undermined some of the main storylines in the movie saying, "The crowd wasn't chanting … nobody threw in their jerseys."

Montana acknowledged that the real Rudy did play in the final home game … and did get a sack — but stated that when the players carried Rudy off the field, they were "kinda playin' around … I won't say as a joke, but playing around."

Joe finished, "He worked his butt off to get where he was … but not any harder than anybody else."
Here's the clip:
Montana on Rudy mp3
Play Now
|
Play in Popup
|
Download
It's not the first time I've heard many a liberty was taken with the Rudy story.
(HT: Ira at WTKA for pointing out the clip.)
Related: MATW cuts through it, "Joe Montana: Rudy was Lazy and a Liar" haha