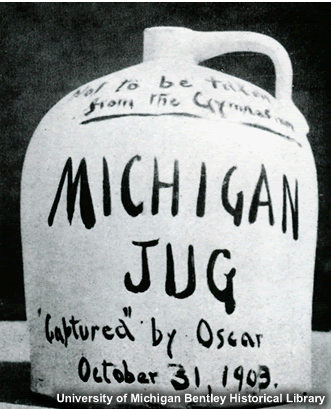 The original Little Brown (White?) Jug, from Historic Michigan Football Photos.
HT: Caught this nugget on Sam Webb's show this morning and it really hurts. The winner of Saturday's battle will keep the Little Brown Jug for not only a year, but until November 5, 2011 (!). Bollocks!
Yes, due to the way the schedule shakes out the Wolverines and Gophers don't meet for another three years. Thankfully that game is in Ann Arbor (kick-off time hasn't been determined quite yet).
That's our jug! As Lloyd Carr reminded everyone last year, we bought it, they stole it. It's ours–let's keep it.
Should we fail, it'll be the longest stint that the jug's been in Minnesota since a four year stretch from 1960 until Michigan won it back in 1964. Previous to that, Minnesota's great Bennie Bierman-led Depression era teams held the receptacle from 1934-1942.