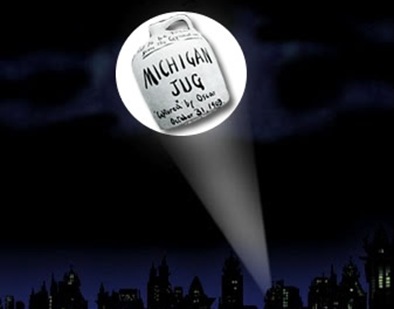 It was an early morning visit to the WTKA 1050AM studios to join Sam and Ira.  We talked a little 1903 U-M football, and in particular, the real origins of the Little Brown Jug rivalry.   Audio:
Little Brown Jug Radio
Play Now
|
Play in Popup
|
Download
Caller JJ said he heard the jug was found on the sidelines.  As I mentioned there are a few versions of the story but knowing what I know now about this story, the least sexy version seems to be the real deal.  And in this case, it's Oscar Munson simply finding the jug the next day (or even Monday) in the Michigan dressing room.  
Before he died, Minnesota equipment manager Oscar Munson claimed he helped Michigan pack up their gear in the dressing room after the 1903 game.   Munson said he actually reminded the Michigan equipment manager (probably Tommy Roberts) to pack the water jug but was told, "get that damn thing out of here!" and the crock was kicked to the corner.   The next day Munson said he found it sitting where it was left and brought it to athletic director Cooke. 
Other stories simply having him finding it on Sunday or Monday while cleaning up—no mention of a "damn" or a kick.
Want more?  You've got the complete Little Brown Jug Lore series here:
Part I: What Really Happened in the 1930s
Part II: Spinning Myths
Part III: Getting it Right
Part IV: 2013: A Space Quandary
Part V: Red Wing Roots
Part VI: Is the Greatest Trophy in College Sports a Fake?
Part VII: Open Questions
Part VIII: Doc Cooke and the Real Origins of the Rivalry