Another slow start, another nice win for a Michigan team playing short handed. Despite the early mistakes blew away the Gophers in the second half and retained the Little Brown Jug. Ryan Mallett took one step back but two steps forward in his development, making up for some early mistakes by connecting with Manningham on some nice throws in the second. In the end Captain Shawn Crable secured the ancient receptacle and the Wolverines ensured that it would be safe in Ann Arbor for another year.
A few takes from inside the Big House: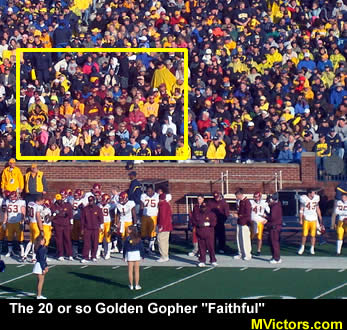 – As I observed at the 2005 game, the Gopher fans were a big no-show at the Big House. I think I counted about 20 Minnesota fans, concentrated in one pocket of the stadium (see pic above). Either that or they have devious Maize and Blue colored disguises. I think I saw more hockey fans from Boston U. who were in town to watch the Terriers get swept by the Blue at Yost.
– All signs point to a health Hart and Henne returning next week for the big one against State. Henne was active on the sideline and I saw Hart do a little sprint after the pre-game coin toss. They'll be needed; Danontio will have the Spartans primed.
– I caught Beckmann and Brandstatter mention that the Sigma Alpha Epsilon Mud Bowl was played before the game as opposed to, as is tradition, before Homecoming. SAE won 18-12. They mentioned that the date of the game was changed due to the homecoming week falling during an exam period? Hmm…things have changed since yours truly taped his shoes for the Mud Bowl game.
– I'm still confused as to why Minnesota didn't stop the clock at the end of the first half with Michigan pinned against the Gopher's endzone.
– Early in the game they recognized the longest tenured Michigan stadium ushers. Did hear that a Jonnie Johnson [sp?] has served Michigan ticket holders for 72 years? That'd mean she'd have started here in the Depression era during the 1935 season and would have just missed Gerald Ford play his final game in Michigan Stadium in 1934. Wow, this person must have some stories to tell.
– Carlos Brown-Jug made his way into the record books with his 85 yard TD dash. The guy can just burn and it was nice to see the long runs of both he and of Brandon Minor. Here's where CB's run stacks up in Michigan longest run history: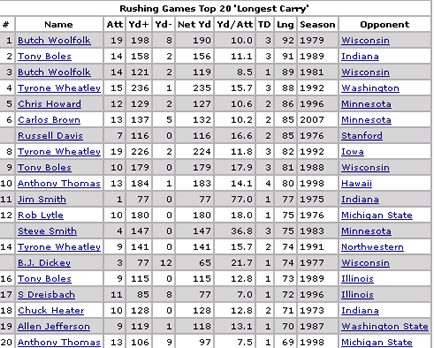 – Hats off to our robust placekicker KC Lopata who is perfect on the year and is starting to make it look easy. And all season has there been more a more consistent performer than punter Zoltan Mesko? He's been outstanding. He gave Michigan two great chances to pin the Gophers inside the five in the first half, and he's consistently booming high and deep punts when needed.
A couple more pics from the game: