Anything.  Thumb wrestling. 
Yes, Corey Tropp returned to Yost and he and his Spartans got over on Michigan 3-2.  Tropp scored a beautiful top-shelfer right in front of me for an extra kick in the nads.  I felt nothing.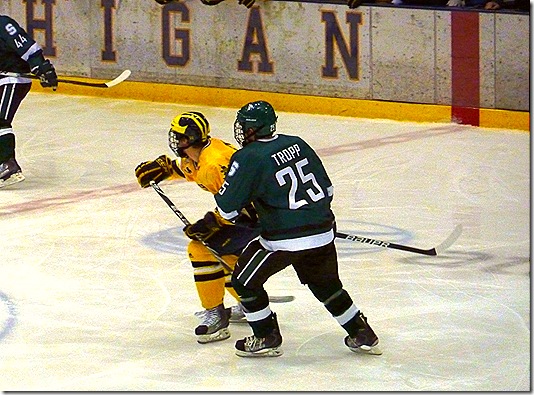 The game was for the most part free of violence, although it seems the Wolverines had a guy in the penalty box most of the night.  The Spartan goal that turned out to be the game winner looked a little suspicious (it was reviewed) although I haven't seen a replay, but overall I think MSU played a bit better tonight.
I don't know what the deal is with this team.  It seems they had everything going in– the right chemistry and leadership, plenty of talent, etc.,—but it's just not working right now.  I heard some say that Michigan outplayed Miami last Friday (despite losing) before getting crushed Saturday.  They didn't outplay the RedHawks in either game and State deserved to win tonight. 
From my hockey novice eyes, it seems like Michigan never really gets rebound chances or their sticks on any pucks bouncing around the net.   The scores seem to come on bang-bang finesse plays and their opponents have kept them from getting good angles for shots.  On the other side, teams seem to be finding the loose pucks and slapping them at Hogie.  I don't know man.  Long season.
Random notes:
Babs Uvula:  I spotted Red Wings head coach Mike Babcock upstairs taking it all in.  First off, I believe he's pals with Coach Berenson, a former Red Wing of course.  And the Spartans have heavy Red Wing ties– Abdelkader on current squad, and Chris Chelios's son Dean, and Trevor Nill is son of Jim, Wings brass.  He never put on the free tee :(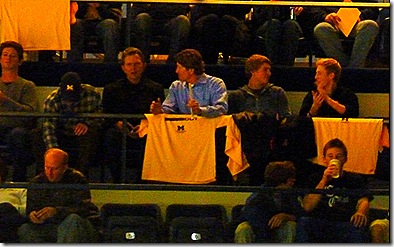 Hutch.  Speaking of just winning something, you'd think that having softball coaching legend Carol Hutchins in attendance would boost karma.  Not so, in fact Hutchins herself is a Spartan grad so any boost from her presence may have bee negated by her degree.
Air Sweden.  Word on the street is that Swede Carl Hagelin's father flew in from Sweden Saturday to watch his son skate.  Despite the loss, Hagelin put on a good show for his old man, netting the second goal and putting on a one-man skating exhibition at least a couple times.