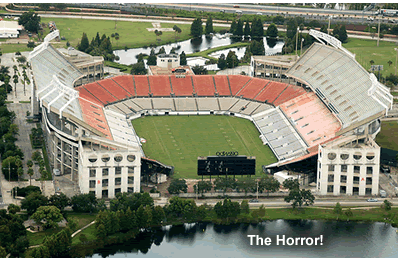 The mad dash for dollars coming out the federal government stimulus pledge is well under way. The website stimluswatch.org has collected all of the requests for federal grant money to be considered (being on the list doesn't mean it was approved).
Did you think all of the requests were for bridges and electric cars? Think again. Check out this entry after a quick search on "football", submitted by Jones, HS in Orlando, Florida:

The funds requested? $6,500,000.
Now, I'm not saying this isn't a viable use of federal funds, but I can see a few folks getting a chuckle that the students have to suffer through playing games inside the Citrus "Bowel", the site of Michigan's glorious victory over Tim Tebow and the Gators in January 2008.