The first round of the 'Death March Madness' tournament (full bracket here – background here). Here's a printable version.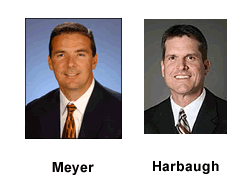 Jimmy Harbaugh (Stanford) v Urban Meyer (Florida)
As 3 and 4 seeded players, realistically neither of these guys is a candidate for the position for different reasons. Harbaugh burned the bridge this summer, and Meyer both burned the bridge last year during the BCS title game debate and given the fact that the Florida gig isn't exactly a stepping stone to Michigan.
We'll start with Harbaugh [bio from Stanford official site]. The question really isn't whether he'll be a candidate. The answer is a big fat 'No'.

Vegas thinks he's got a shot for some reason as he's coming off at 10 to 1 to get the position. I'd work a strategy to short that. I have an MBA but struggled in derivatives…anyhoo, there's a profit in shorting Jimmy somewhere. Harbaugh has sufficiently burned the bridge with the current administration whether it be AD Bill Martin or search committee members such as former RB Jamie Morris. No, not going to happen. BUT..obviously a Michigan man, long ties to the program and did pull off the 2nd biggest upset in football this year when he downed the Trojans… The question really comes down to whether Harbaugh could ever be a candidate.
Meyer is not exactly a reasonable candidate either [bio from Florida official site]. As coach of the reigning champion Gators who of course destroyed the evil Sweatervested one, he's definitely the rage of the college coaching profession. While at Utah he had a Miles-esque out clause for the unholy Trinity of Midwestern powers (Mich, ND, OSU) but things just didn't work out when the Irish job came up. He made the s-list of Coach Carr due to his lobbying prior to the final vote last season, and more than that, his specifically calling out the Michigan team earned him some raspberries on State Street. This website dubbed him Urban Meyer Wiener, and he'll always have a special place in my heart for his actions. There have been some questionable issues with recruting pop up in the press and his players haven't proven to be saints. This said, he's flat out got it done on the gridiron.
So what do you think? The winner will take on #2 seed Greg Schiano of Rutgers:
Update: Meyer wins with 72% of the vote! Here's the latest match-up:

{democracy}