The second round of the 'Death March Madness' tournament (current bracket HERE – background here). Here's a printable version.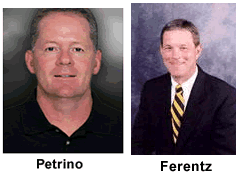 Kirk Ferentz (Iowa) vs. Bobby Petrino (Atlanta Falcons)
How they got here: Ferentz received a bye in the first round as the top seed in the region, Bob Petrino crushed Kansas State coach Ron Prince in the first round.
We'll start with Ferentz [bio, Iowa official site]. Born in Royal Oak Michigan, Ferentz's career took him from places like Connecticut, Maine, and even the Cleveland Browns under NFL coaching god Bill Belichick before settling in at Iowa. As one of legendary coach Heyden Fry's star pupils in the 1980s, Ferentz returned to the Hawkeyes in 1999. His status as a candidate is elevated by the fact that current Michigan president Mary Sue Coleman was the Iowa president at the time of the hiring. He's had a tough season and there are a few in Iowa City that feel the bloom is off the Rose. A season ending loss to Western Michigan didn't help things.
In the past couple days we've heard the Ferentz name come up more and more, to the point that there's a rumor that the Iowa coach has been offered the Wolverine job. Of course we don't know if that's true, and if true, whether Ferentz would leave the school that helped establish his name as a big time college coach.
Bobby Petrino elevated the Louisville football program to new heights last season and took his craft to the NFL, where his short tenor has been stunted by the off field activities of Michael Vick. He's a longshot for the candidacy but he's got ties to the Midwest via Louisville, and they way that team collapsed this year you have to wonder if Petrino is worthy of the hype. Check out his Wikipedia entry and here's more from the Falcons official site:
His four-year 41-9 record included a 12-1 mark last season and a No. 7 national ranking in the USA Today final Coaches' Poll. The Cardinals ranked fourth in the nation in scoring (37.8 points per game) and second in total yards (484.6 yards per game). "My goal when I arrived at Louisville was to turn the program into a national power," Petrino said. "We just rolled up our sleeves and went to work. We were blessed with some amazing athletes and some great coaches, and we were able to win a lot of games and have a lot of success. I am looking forward to having the same kind of success here with the Falcons. I believe we have the players, coaches, and organization in place to do some amazing things as a team, and I am looking forward to the challenge."
Update: It's over, Petrino wins pretty easily with 56% of the nearly 500 votes. Here's the current poll. You clearly don't like Ferentz.
{democracy}