I hope you had a chance to check out the piece on Bennie Oosterbaan that I contributed to Saturday's game program.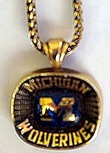 If not,  I'll post that in full on these pages in days to come.    I will also have a story on #87 Ron Kramer in this weekend's UMASS program and I think you'll like it.  
Several of his friends helped out including former Lions teammate Tom Nowatzke, longtime Detroit TV and radio broadcaster Bob Hynes, and the widow of legendary U-M athletic director Peg Canham-Keeley.
Speaking of Mrs. Canham-Keeley, I met her few years back while I was doing a segment on the official Michigan Football Tailgate Show.  She was standing behind the set and I noticed her necklace—a 1970s-era M football ring (inset)—and had to learn more.  I led to this MVictors post from back in 2009.
Anyway, Canham-Keeley and I swapped a few emails & I couldn't quite fit all of her thoughts on Ron Kramer into the program piece.   So here are a few bonus memories and thoughts on the truly one-and-only Ron Kramer, #87:
"The funny thing is though when I first met Ron back around 1975 I couldn't stand him. My first impression was of him taking a can of beer, taking a bite out of it, drinking the beer in one gulp and crushing the can on his forehead.  I thought that was really crazy, but very soon after that I realized 'THAT'S JUST KRAMER', which is how the title of his book came to be– because everyone interviewed said the same thing."

"For many years Ron and Jim Brandstatter were the bartenders for Don's & my Friday night Press Parties – talk about two crazies together behind the bar.   Don & I joked about having the two most highly paid bartenders around (we didn't pay them anything).  Ron also took most of the photos at those parties*, of which I still have many." 

"I remember the guy who could never say no if someone needed his help. I think he told me once he had over 20+ surgeries because of the toll football took on his body – shoulders, knees, back, etc.  Yet he wouldn't hesitate to go across the country to play in fundraising golf outings if someone asked."

"I saw Ron the week before he died and had a sense he wasn't going to make it much longer. I found out after he died that he had taken my fiancé aside that day and told him to take good care of me – how special is that?!"
[* Ed. I might need to see a few of those photos.]
Much more coming up on Ron Kramer later this week and fergodsakes, buy a program on Saturday!
Need more now?  Check out Farewell Mr. Kramer from The Hoover Street Rag
Follow MVictors on Twitter