A consideration for your Super Bowl pregame activities, turns out U-M legend and Saginaw native LaMarr Woodley will burn a few frames Sunday at 2pm EST on ESPN.  From the press release:
NEW ORLEANS, La. (Feb. 1, 2010) – With the help of four Lumber Liquidators Professional Bowlers Association Tour stars and a star-studded lineup of celebrities, New Orleans Hornets All-Star point guard and avid bowler Chris Paul will again highlight his "second-favorite sport" in the second annual Chris Paul PBA Celebrity Invitational which airs Sunday at 2 p.m. Eastern on ESPN.

Celebrity icons Chris "Ludacris" Bridges, Pittsburgh Steelers Pro Bowl wide receiver Hines Ward and linebacker LaMarr Woodley along with Jacksonville Jaguars head coach Jack Del Rio teamed with PBA stars Pete Weber, Norm Duke, Wes Malott and Jason Belmonte in a unique doubles competition to benefit Paul's CP3 Foundation.
The folks managing the event even shot me over this beauty of a photo, feature Wood about to crush pins: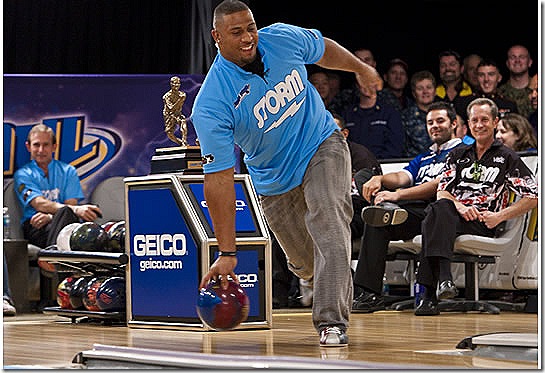 Any avid bowlers out there?  Is it me, or does Woodley look like a bit of a trainwreck on the lane?   Appears he's about to tip over, his wrist looks funny, eyes closed?   And everyone apparently chuckling in the background isn't hurting my analysis.  (P.S. Love the Heisman-esque bowling trophy).
Check him out Sunday at 2pm.  More here: