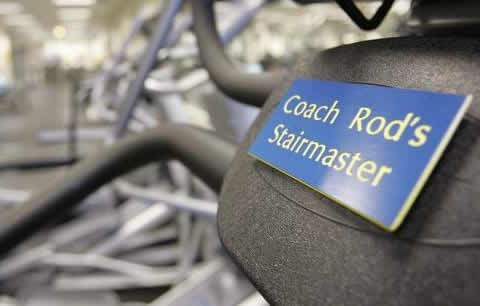 Freep.com – This won't make sense unless you read the article or listen below
A great segment on WTKA yesterday; you may have missed this as it was sometime just before the end of the show at 10am. Here's Larry Lage, AP sports writer who covers the state of Michigan, on his week behind the scenes with the coaches and team. He wrote an excellent 3000 word article on the experience, check it out here.
Contrast his observations with those of Michael Rosenberg, check out my interview– a little different take on Rodriguez.
Lage: "He never wants to change. He still wants to, at the core, be the guy that's leading Glenville State. I don't think he wants to feel like he's 'big timing' people."
And his final thoughts: "I like a lot of people had a 'jury is still out' gut feeling about Rich Rodriguez. After spending this week with him, I'm convinced that he's a good guy, a good coach, and tries to be a good husband and dad. And I didn't have that feeling for sure before spending that week with him." [memo to Andy Evans, please don't finish the sentence of the guy you are interviewing with a cliche' unless you want to end up on 'a reservation'].
Here's the audio from WTKA yesterday, and from today, with Art Regner who filled in for Sean Baligian:
Larry Lage on WTKA 9-03-08
Play Now
|
Play in Popup
|
Download
Larry Lage on WDFN 09-04-08
Play Now
|
Play in Popup
|
Download
Elsewhere: Check out Varsity Blue, they got an assessment on the Utah game from an Ohio State backer over at Buckeye Commentary.