It's that time of year.  Vegas has set Michigan's over/under at an even 6 games.  (I've seen other numbers offering 7).  Remember the win total doesn't include any bowl game or conference championships.
Last summer the book had Rich Rodriguez's first team set at 8 which I thought was a bit optimistic:
I would have thought it'd be set a tad lower (was thinking somewhere between 6.5-7.5 before I heard it).
It's probably the correct median for betting purposes, I'd probably go on the high side of that.  I'm basing a lot of that on the success big time coaches have had in their second seasons in gigs like this (there was wonderful analysis in HTTV '08) and you've got to think things will be clicking a little better no matter who's at the helm of the offense.
Other totals of interest: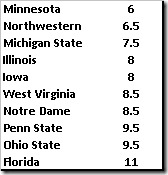 Feeling really good on the Wolverines chances in 2009?  Odds to win the BCS Championship are at 150/1.  More odds from BetUS.com.