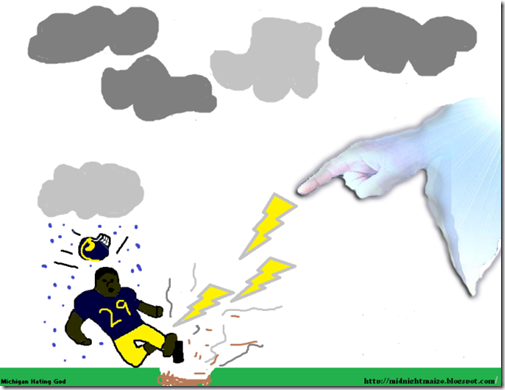 Make a shirt that has this on it, man.  What's the worse thing that could happen?
The great folks at Moe's and UGP have received a bunch of great entries for the 'Trick Out your Tailgate with Free Shirts' contest (ok, that's my new name for it) and needs any other entries in by this Friday.   So get 'em in.
Don't know what I'm talking about?  GET IN:
Moe Sport Shop (711 N. University) and Underground Printing (1114 S. University) is rewarding our loyal and faithful Wolverines by sponsoring tailgates this fall.  The winning tailgate gets discount codes to use at Moe's or UGP and up to 40 free custom shirts* made up for their tailgate members.

Fill out the below questions and send them to tailgates@moesportshops.com and a tailgate will be selected from all the submissions.  Winner will be announced on MVictors.com.

1. Favorite tailgate spot or location of your tailgate?
2. How many members does your tailgate typically have?
3. What's the best food item served?
4. Official/favorite beverage of your tailgate?
5. Are you a Facebook user?
6. What percentage of your tailgate uses Facebook?
7. Why should we choose your tailgate (1 paragraph max)?

Questions on forms submission, any questions/problems can be directed to tailgates@moesportshops.com.

Check us out Moe Sports Online and Underground Printing or find us on Facebook at www.facebook.com/MoeSportShop.

*Custom shirts must follow rules regarding licensing set forward by the University, we have several design ideas available and also accept design ideas from the winning tailgate.
Don't miss out!