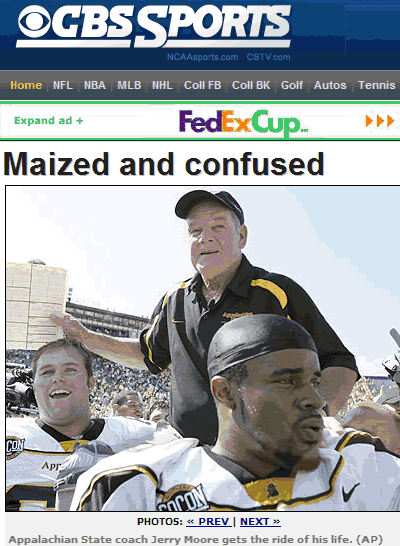 This one falls squarely on the coaches and in particular, on Lloyd Carr. The team was disorganized, confused and not ready to play this game. Check the film: the punt return team had 10 men on the field multiple times in the second half and it went unnoticed. There were several other situations where there were too few players on the field. This is on the coaches.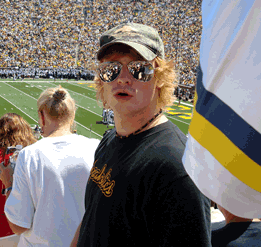 Above you'll find "Shaggy", one of the great (and they were) Appalachian State fans that weasled their way into Section 22. You'll note that the Shagman correctly noted the Mountaineers margin of victory in his right hand.
I remembered the Brookline Ryder Cup where we 'US Americans' made a stunning comeback and defeated the Euros on Justin Leonard's putt. Many of the Brits leaving the Boston course offered a kind "Well done" to me and my buddies, clearly trying to rise above their disappointment. In similar fashion I offered a "well done" to an elderly woman & App State supporter as she walked to her car. She smiled and replied, "you have a lovely stadium."
Yes, we have a lovely stadium. WE HAVE A LOVELY STADIUM!?
Just kick me in the giblets.
Beano Cook told ESPN radio that the App State kicker could "have" any woman in Boone, NC.
I'm still shocked, but let's run down a few of the lowest moments I've witnessed in Michigan sports history. Yes, I actually saw these with me on eyes:
– Rocket Ismail streaking twiceto the endzone in 1989. My first game as a Michigan student.
– Chris Webber's timeout against North Carolina in New Orleans 1993.
– Kordell Stewart's bomb sinks the Wolverines in 1994.
– TJ Duckett's catch that defeated Michigan in East Lansing in 2001.
– MSU beats Michigan in Ann Arbor, classic no-call on the two point conversion defending Desmond Howard.
Back to reality. This site didn't make any predictions on the season but prior to the game I was thinking 10-2 or 11-1 regular season. At this point it is 8-4 with losses over, pick 3 more of your choice of: Oregon, Notre Dame, Penn State, Ohio State and just maybe…Michigan State? Why not? Someone explain to me how this season can be salvaged.
UPDATE: For more thoughts read Dropping the Baton, posted Sunday morning