A few more takes from the game this weekend:
– Manningham's catch will be always remembered but he took some heat for a play earlier in the fourth quarter. Here's Matt Zemek of CFN:
Michigan receiver Mario Manningham nearly cost his team a victory with a shameful lack of effort…With his team trailing in the final minutes of Saturday evening's game against Michigan State, Manningham lazily trotted out of bounds one yard short of a first down.
I was on the opposite sideline during that play but to me, it just looked like Manningham wasn't aware of where he was on the field. He caught the ball and went out of bounds. To characterize this as "shameful" seems to be a major stretch and a shameful characterization by Zemek.
– I don't know if they showed this on TV but Zoltan Mesko laid out a ref pretty hard during the game. He inadvertently caught the man with his robust hips while heading out to punt. After the guy when down Mesko didn't break stride and just continued to the huddle. Lloyd Carr (in his 'Darth Sweatshirt' gear) was one of the first guys on the field to check out his status; here's a photo taken just after the incident: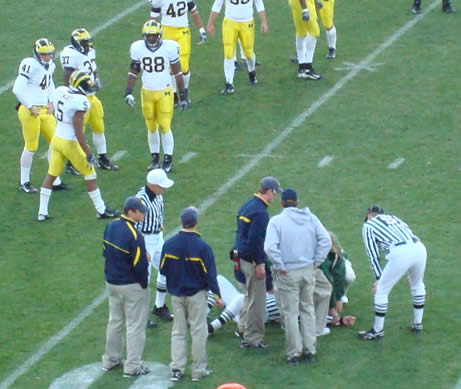 – A day after the game I've thought about Hart's "little brother" comments and they were not cool. There surely was some serious smack talk during the game and Hart probably started a lot of it. I don't care about that, but to bring that little brother nonsense to the media after the game was poor taste. You could argue Hart has the right to say what he wants after beating MSU four straight but I think he should have left that on the field. Looks like Coach Dantonio didn't think it was too cool either.