I was poking around the U-M Bentley Library tonight doing some research for the final segment of This Week in Michigan Football History for Saturday's pregame show.   I went over to page #1 of Wolverine lore: 1879 & the first game ever played against Racine College in Chicago at White Stockings Park.   (No, the teams didn't switch sides when they crossed midfield, hahar). 
The Bentley page for the 1879 team now includes a recap of the Racine game from the Michigan Chronicle, the student newspaper of the day.
So check this out.  Near the start of the first game ever played, before a point was officially tallied or a single line of history written, maize and blue backers had a major gripe with the referee over a call: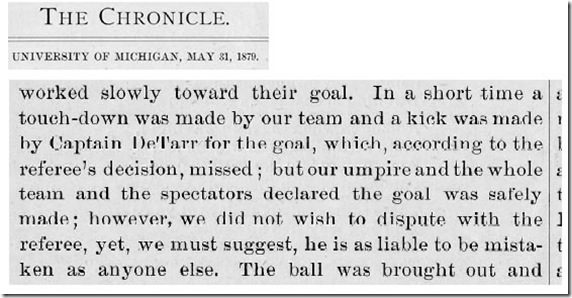 I love that the writer took the high road on the disputed kick during the game but insisted "a kick was made" in the recap piece, and added the parting shot, "he is as liable to be mistaken as anyone else."  
It's in your blood, Michigan fan—getting screwed for 131 years.