The #1 jersey controversy has definitely struck a nerve with the Maize and Blue community. Judging from the comments and emails to this site alone, this is definitely a hot one. I understand.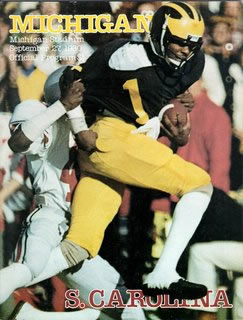 Most fans were a little surprised when Rich Rod overhauled the entire coaching staff holding onto just one assistant- Fred Jackson. But in the end I think people understood. Certainly fans wish the whole mess with West Virginia wasn't happening but again, I think they get that any divorce like this is going to be a little ugly. As far as upholding tradition I think he's done the right things so far. The 'On the Road' tour has been a great success, and he's taken a few opportunities to meet with former players. Each time he's been challenged on something (Boren, that whole paper-shredding B.S., the lawsuits, the snake-oil-a-rama), he's addressed it directly and to me, perfectly. He's hasn't bashed anyone, he gave his take on the situation and it's always left me feeling like good about the way it was handled. In some cases, the stuff turned out to be complete bull.
This one cuts right into everyone's fears. Ignoring the tradition and more recently, the scholarship, tied to the #1 jersey would be a blunder. If Rodriguez did know about it and ignored it, I think that would be a foolish thing to do. I mean, what's he got to gain by disregarding this? A chance to remind everyone who's in charge? That's a huge price to pay: alienation of fans, former players, M tradition and potentially a scholarship? It doesn't make any sense.
The media is lining up to bash him on this, I've already gave you the Jim Rome audio. Check out what the folks in West Virginia have written on this:
You may recall that when Rodriguez coached at West Virginia, very little from the past was left untouched. He needed new uniforms, a smoking helmet, a new offense, a new defense, a new introduction into the stadium. If they huddled in the past, he didn't huddle. He had a new offense, a new defense.

He controlled everything, except the line of scrimmage against Pitt.

Now he's at Michigan and nothing's changed with him, although you expect everything to change with Michigan.

It has begun already as he has already begun messing with tradition and, in the process, teed off not only one of the school's all-time great players, but one who is the anti-Pac-Man.
And bloggers get crap for not being responsible. How about Rich Rod's side of the story? Who's confirmed that he even gave the jersey to the defensive back? Do coaches even officially assign jersey numbers to people in the spring anyway?
If he didn't know or wasn't clear on it, then I think he gets a pass. The guy has a lot on his plate. Either way, don't you think Rodriguez deserves a chance to address this just like everything else that has come up?