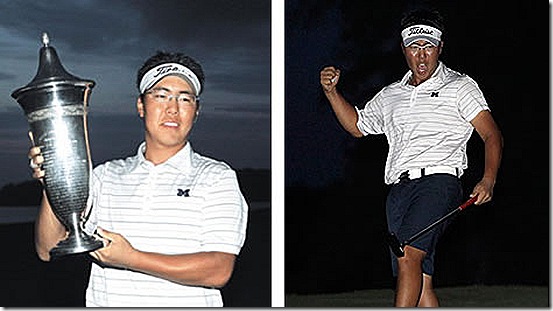 No "short pants" allowed at the Masters, Lion.  But you can wear that shirt
Unbelievable. If you missed it – U-M senior golfer Lion Kim took the U.S. Amateur Public Links Championship in Greensboro, N.C. and in doing so, qualified for a spot in the freaking Masters.   Yes, he'll play at Augusta national, legendary course architect Alister MacKenzie's "other" jewel (other than the U-M Course).  Perhaps the Kim will have an advantage on those greens.
More from the USGA official site on the victory.
Greensboro, N.C. – The USGA already has a "Tiger," a "Spider" and a "Golden Bear" as national champions. Add to that list Lion Kim, who won the 2010 U.S. Amateur Public Links Championship in the most dramatic fashion possible, sinking a 6-foot par putt at 9:06 p.m., 34 minutes after sunset, to defeat David McDaniel, 6 and 5, at the 7,218-yard, par-71 Champions Course at Bryan Park Golf & Conference Center Saturday.

Kim, 21, from Ann Arbor, Mich., lost the first hole of the scheduled 36-hole final to McDaniel, 25, of Tucson, Ariz., but won the second to square the match. He never trailed again.

"I was really tired mentally, but I just kept telling myself, 'You know what, you've come this far,'" said Kim, a rising senior at the University of Michigan. "To give up… I wasn't going to give up. I told myself, 'It's too late to give up, you've come too far, you have to give everything you have. If you're going to go down, go down fighting.'"
Naturally Kim was asked if his first name was inspired by the nickname of you-know-who, and Kim told the story he's probably had to tell 1,000 times like a pull-toy:
"My dad wanted to name my Lion because, number one, it's very easy to remember," said Kim. "I'm sure my parents got the idea from Tiger Woods. But I know for a fact they didn't name me Lion Kim thinking I would be the next Tiger Woods. Trust me, they're smarter than that."
He'll get a chance to see the more famous feline namesake next April.
(Hat tips to Mark at the Freep, and mgolf4 at mgoblog.) 
* sorry about the post title.