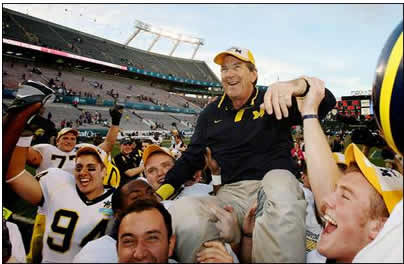 If you were questioning whether this was a partisan Florida crowd, check out the stands
And Carr gives some touching comments at midfield and he's flanked by wife Laurie. Great stuff; Great win….can't be happier for the guy and the program. And taking down Urban Meyer and Florida is a big one for the Big Ten.
And Tebow scrambled for what seemed to be hours and threw it up high in the air…it looked for a moment like the Gator receiver was open but no. Incomplete and Michigan and the Big Ten win this one. Henne's the MVP for me. They dose Carr with the cooler. The story of course is Carr but also Michigan giving a glimpse of the future Michigan offense (maybe DeBord trying to keep his job) and the final story line is M overcoming those 4 turnovers. Clock ticks to zero and what a great end to a tough season.
Two incomplete passes sets the clock to 2:04 and sets up third and 10. And Trent JUST MISSES and incredible play to pick the ball off. 1:58 – Fourth Down.
Michigan gives it to Minor, and Florida stops the clock. Sets up a field goal try that will force Florida to get a touchdown with two minutes to go and no timeouts (Plenty of time). And Lopata puts it through who is one of the nice stories this season.
2:36 left, Gators burn 1. Can Michigan just win a close one here? Come on! Back to Hart on 2nd down and Florida uses their next timeout just one left. Just five seconds tick off. Would you throw?
And two nice stops sets up third down and they stop 'em. And Florida goes with 3 timeouts on 4th and 6….Why? And Stevie Brown of all people breaks it up. Nice play and what will Michigan do? Three timeouts for Gators…
Under 4:30 now and it is 2nd & 4…still in the shotgun, these guys have to be getting tired! And then Henne connects with Arrington for the TD and Michigan goes up 3 with about 4 to go, wow.
With 5:45 left Henne starts back to work connecting on a quick five. Obviously need a TD down 4 and Henne goes up top for an INCREDIBLE catch by Arrington, with one hand, down the sideline and sets up Michigan inside the 30….
And a reverse and they're in the endzone for the lead. My nerves are shot.
A Tebow and Harvin are moving the ball again; 4 turnovers and the lead but come on. Not good. Gators in FG range for sure. And another first down and their inside the 10 with 6:16.
Sweet jesus – They set up a screen, was it that play to Long again? No way – I can't believe it. An interception and Florida is driving. I can't believe it. Long turned toward the ball like it was set for him but Hart was also there.
9:25 BIG third and 1…Right over Long and Hart gets it. Very nice. And a quick 9 on Henne's fourth option. A great start to the drive.
12:00 Crable makes a great stop on a run; backing Florida up and sets up a 2nd and 17. Then right back to Harvin for 14 to set up third and short… Ugh; that guy is a killer.
Nice kick by Lopata puts Michigan up three but still have to wonder what things would be like without the turnovers. And then a conventional kick-off and Tebow starts off at the 32.
And they try that hand-off to Manningham; Gators have it covered and there's a penalty. Not so bad; would have been third and 15 but now it's second and 25. And a quick 10 gets them back to third and 10. Not good
Good start to the fourth; moving the ball with Hart running well. Getting back in the red zone got to convert this time.
And that'll end the third; should be a great finale.
Michigan starts off after a nice return by Minor; and Manningham picks up 25 on a great screen and run. Inside Florida's 50 within under a minute.
Wide open; Florida scores again on another wide open play in the middle. That's brutal. They just panned to Hart and he's pissed. He should be, a lot of work to do as it is 28-28 with 1:26 in the third. Should be a great 4th quarter and hopefully Michigan can set it up nicely here when they (hopefully) get the ball back.
"to get the ball back to Henne and Hart" Wrong again, as a ballsy fake from the 25 to a wide open receiver and Florida gets the first. Crazy game.
Florida gets the ball back and two nice plays put the Gators at third and long. 3:45 left... A very nice three and out to get the ball back to Henne and Hart to try to get this in the end zone. Can't afford any more turnovers.
NOOOO— HART fumbled again! My nerves.. I can't believe it. It was definitely a fumble; no question. Oh boy what a killer. And a touchback.
And they're moving. A nice run by Hart; nice catch by Arrington then Campbell to get it inside the 10.
7:47 in the Third: Michigan gets the ball back; we'll see if they keep it rolling….
Tebow walks in for a touchdown. Before that, Tebow converts on a nice fourth down conversion. Boy, they've been pressuring Tebow all game got to give English credit but got to lock down on these guys.
Florida is driving giving the ball to Harvin for a good 25. That guy is tough; 6 carries for 101 now.
And they kick-off and try the lob again. Doesn't work this time and Florida has the ball on the 44. Hindsight is crystal clear but I would have booted it deep.
And Michigan keeps it rolling with beautiful pass from Henne to Arrington and Hart finishes it off, talking major smack in the end zone. Michigan gets up big 28-14 but it's big time early.
CORRECTION: "Florida gets the ball to start the half." – Nope! Michigan does a lob kick and no one from Florida knows what to do; Campbell recovers. Great play – the early special team miscues have been erased by a block and that great play.
Start of the Third: Ugh; those turnovers hurt but overall obviously can't complain about the net. Michigan passed for over 220 yards and that's kind of the production you expected to see at the start of the season from this offense. Florida gets the ball to start the half.
OK – Michigan scores on third down again, a great pass and catch for touchdown.. and they'll take the lead into half by 7 barring a disaster on the kick-off.
No timeouts for Michigan will brings up some concerns; will they run to Hart?
Henne is still sharp with under a minute; a key first down conversation but they need some yards. Beautiful pass and catch for a TD; being reviewed. Looks like it showed be down about the 1/2 yard line but very close….
And with 2:39 in the half Michigan is still in the gun.
Ok, Florida is out of the end zone but Michigan is giving Tebow fits. ANDnooo…Ezeh had an interception is his hands that could have gone to the house.
Terribly executed "triangular pass" and just a bad decision by Henne to throw into double coverage, AND he threw off his back foot. Just terrible. Michigan gets a break as the ball is downed at the 1.
A quick three in and out and fair catch puts M is good field position at midfield…And back to Hart. He now has 1 straight carry without a fumble.
Rich Rodriguez is still in the ABC booth commenting; great stuff. Asked him to talk about the Pitt game and he's clearly not interested in talking about it and again does a nice job to spin out of that conversation. He noted that Michigan opened with a spread offense. ABC is asking him tough questions – asking him about Mallett – again, he dodged it but ABC is conducting a 60 minutes interview in there!
ABC is interviewing RR in the booth. Again he does a nice job in the media. A quickly a beautiful screen to Butler inside the five. Bollocks! Hart fumbles and turns it over. Unreal. The last thing you expect.
YES! Sacked Tebow for a loss. AND Field goal BLOCKED! Very nice, very nice
Wide open Florida receiver again, should have caught it. These guys are getting WAY too open.
Florida scores easily again but it is called back. Ugh, and Harvin is back in.
A quick hand-off to Harvin just about busts it; Trent takes a good angle to stop him. Brutal. These long runs (see Beanie Wells) are a killer. Harvin banged up on it but walks off looking fine. These guys are tough to stop. Tebow then falls over for a first down inside the 5; Tebow hasn't run much yet today.
And an end to a crazy drive – Hart takes it in off right guard and stretches for the score. 14-14 with 10 to go in the half. Great recovery; excellent play calling.
Come on – push it in. They also just showed some video of a pregame scuffle a midfield reminiscent of the Ohio State game.
Wow, a lot of crazy action. A great catch and throw puts Michigan inside the 10. Then Carr calls a pass play to Jake Long that was a complete BUST. Finally a personal foul on the Gators puts M on the 2.
Early Second quarter: First off, a horrible personal foul call goes against Michigan on the punt return. Leads to a Florida touchdown that was again too easy. But Henne and company have rebounded and starting to make some plays. With 12:45 in the half, Michigan moves into Florida territory on a nice screen to 86. They pretty much stopped going to Hart.
First quarter: Despite winning a square (and reversal) in the family pool, things not looking good for the Blue. The heroics of the first drive faded fast as Florida scored too easy and then was driving to end the first quarter. Too many mistakes and the offense doesn't seem to have the seams they had in the first drive.
First drive: Wow, Henne was sharp. Reminds me a bit of the start to the 2006 OSU game last year. Beautiful plays all around, great play calling. All around, can't beat that start and they overcame a terrible play by Minor to start the game.