If you read this site you know that Saturday is officially Willis Ward Day in the state of Michigan.  It is also not-so coincidentally the 78th anniversary of the infamous 1934 Michigan-Georgia Tech game.  I bet you didn't know this: there's a descendant of Willis Ward currently studying on campus in Ann Arbor.
I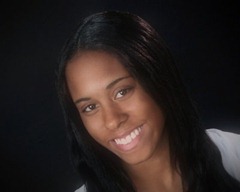 met Melanie Ward, the grand niece of Ward (Willis is her grandfather's brother), at a screening of Black and Blue at the U-M Alumni Center on campus earlier this year.  Ward (left) is currently a U-M senior and was kind enough to chat with me this weekend as we approach the day that will honor her great uncle. 
MVictors: What did you know about your great uncle before coming to U-M?
Melanie Ward: I knew that I had a great uncle who played football for the University of Michigan in the 1930s. I also knew a little later that Gerald Ford also played on his team. But I did not know anything about the Georgia Tech football game.
MVictors: Do you have any other family members who attended Michigan?
Ward: Just Willis and his sister-law, who is my dad's mother.
MVictors: So when did you learn about the controversy about the 1934 Georgia Tech game and Willis Ward's involvement?
Ward: At the screening of the documentary at the Alumni Center.
MVictors: Wow.  So how did you find out about the documentary?
Ward:  I don't remember specifically but I saw it online. I saw the name 'Willis Ward' and knew that this was my great uncle. I saw the name of the documentary and I was like, 'I don't know about this football game!'.   I would have gone regardless but I was like, 'Wow, I really gotta go to see that.'
He died way before my parents were even married, so I can understand why no one really mentioned it to me.  My grandpa, who was around his age, died when I was really young so I can understand why no one told me.
MVictors: So what did you think of the Black and Blue documentary?  What were your feelings right after you watched it?
Ward: I thought it was a really great documentary. I just really appreciated that there were people spending so much time and literally dedicating themselves of making other people aware of what happened and that they dedicated so much time. I was especially astonished to learn that Tyran [Steward] wrote his entire dissertation about it. That was the main emotion – just a very deep appreciation. And of course I learned a lot about my family history that I didn't know before.
MVictors: One of the villains in Black and Blue, if you want to call it that, is Fielding Yost, who is still revered in these parts for all his work in athletics and on the athletic campus. If you don't want to get into this I understand, but knowing the story, knowing how your great uncle was treated–do you have any feelings toward Yost and his involvement in the '34 Georgia Tech game?
Ward: You know, I don't have any bad feelings toward anyone specifically.  I understand how things worked and if we wanted to play Georgia Tech we had to make a tough decision.  I can accept that certain decisions were made.  The only thing that disappointed me is that it took so long for this to be recognized and to be brought into the spotlight, with the University of Michigan being such a liberal university.  Being so liberal and so emphatic about social justice and racial justice, we're really big on that at U-M…it kind of disappoints me that it took so long for us to admit this happened.
MVictors: Do you have any plans for next Saturday?
Ward: No because actually I wasn't exactly sure…I knew that it was going to be Willis Ward Day, but I didn't know what [the athletic department] planned to do. No one really seems to know whether they plan to do anything. Maybe I'll have my family come up and we'll watch the game.
MVictors: Thank you!
[Ed. A big thanks to Melanie for chatting with me and for providing the photo.]
* Director Brian Kruger discusses Black and Blue
* Harry Kipke and the Fall of 1934
* Jesse Owns and Gerald Ford (1934)
* The Willis Ward Protests (1934)
Follow MVictors on Twitter